Common Winter Infections Your Child May Suffer From
It is common for kids to experience different types of infections in winter. A child's bad health doesn't only make their parents over anxious but also makes the child suffer. The illnesses in winter are generally not very serious but it is important to educate yourself so that you can understand the infection before the time goes out of hand. Understanding the infection and its type help the parent to make a quick decision about what to do in such a situation.
Luckily, now we have top pharmaceutical companies in Pakistan which have eventually enabled us to find treatment at the best prices. Don Valley is one of the best medicine company in Pakistan and offers the widest range of medicines in local market, leading Govt. Institutions and global markets. Due to increase in the diseases incidence over the past few months, pharmaceutical exporters in Pakistan have stepped up in exporting a large number of efficacious and economical pediatric medicines across the globe.  
Before going in-depth, let's have a look at the quick facts about winter illnesses.
Infections occurring in winter can last from 3 days to 2 weeks. 

Almost all of the infections can be recognized at the initial stage and are treatable at home.

Your child can catch more than 10 colds a year which means that you should always be prepared with all of the necessary medicines you might need.
The list of most common infections likely to occur in your children during winters are as follows:
Sniffles, cold, coughs
As already mentioned above, your child may catch up to 10 colds a year. It will most likely happen that your child might catch a cold multiple times this winter depending upon immunity, health, hygiene of child, pathogen involved and added infection chances. In case of viral infections, in which children usually recover by themselves, it can be worse in the beginning but will automatically lose its strength with time. While in case of bacterial infections you will be needing support of prescription drugs. There are several pharmaceutical companies in Lahore which are manufacturing drugs to get rid of sniffles, colds, and coughs. You can get multiple medicines from Don Valley for instant relief of cough such as Orolin, Ivymax, etc and including antibiotics such as Amoxicap Suspension, Clamentin Suspension, Macrocid suspension, DV-Zythro and Cefidon suspension & many more. However if the condition is not very serious try giving your child steam, home remedies, etc this helps in relief from cold. Ginger water can also be used for instant relief from cough. 
Influenza
Influenza is the most common type of flu likely to happen in children. Some visible symptoms can help you to recognize the actual problem so you can start the treatment with home remedies such as steam, mentholated balms, etc as soon as possible. The possible symptoms are as follows:
Runny nose

Cough

Body pain/ muscle pain

low grade fever
Sore Throat
Tonsillitis, Pharyngitis or commonly called sore throat, is actually a kind of bacterial disease that can happen in other seasons too. This is a medical condition requiring medical help in the form of prescription drugs.  This infection is highly recorded in kids aged from 5 to 15. Possible symptoms of sore throat are as follows: 
Trouble swallowing food

Fever

Stomach ache

Headache

High grade fever
Don Valley offers multiple, efficacious and economical treatment options in this indication such as:
Clamentin Suspension

Macrocid suspension

DV-Zythro 

Cefidon suspension &

others.
Pneumonia
Pneumonia is one of the most occurring diseases found today in children and old aged, particularly with rapid temperature drop, pandemic, smog and pollution has contributed a lot in its incidences . Also immunity of the host, comorbidity, pathogen involved are the main factors to determine the course of illness and prescription medicine needed. As common with other winter infections, it is also caused by bacterial infection. It normally starts with a common flu. If the cold stays longer than usual then fever becomes a part of flu, and coughing gets worse and breathing becomes compromised. It is best to see your doctor in such a situation. 
All of the diseases mentioned above are treatable by using medicines from Pakistan top pharmaceutical companies due to their easy access, efficacious and economical brands.
Don Valley products for your rescue!
We understand that it is highly anxious for parents to deal with the diseases of their child in general and particularly in tough winter. Don Valley provides you with the widest range of cost-effective treatments for your child's illness.
Clamentin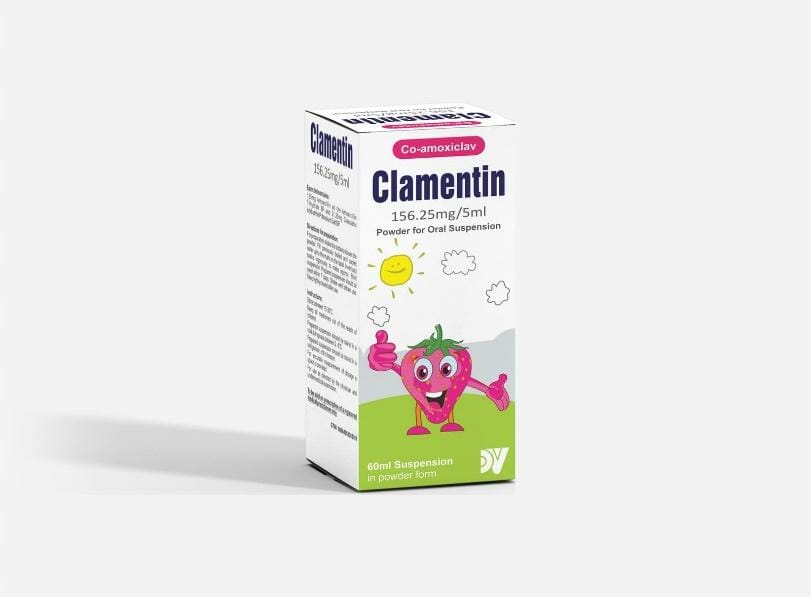 Clamentin is a powder form of suspension for kids suffering from bacterial infections. This medicine is one of the basic drugs for the treatment of mild to moderate infections such as tonsillitis, pharyngitis, ear and nose infections, skin & soft tissue infections, etc. Clamentin is trusted by most pediatricians and other prescribers.
This suspension by Don Valley, one of the top pharmaceutical companies in Pakistan, is available nationwide and also in international markets with the help of their strong supply chain network of 123 distributors across the globe. Don Valley being one of the biggest exporters of pharmaceutical products has witnessed a huge demand of pediatric products from across the world due to efficacy and economy.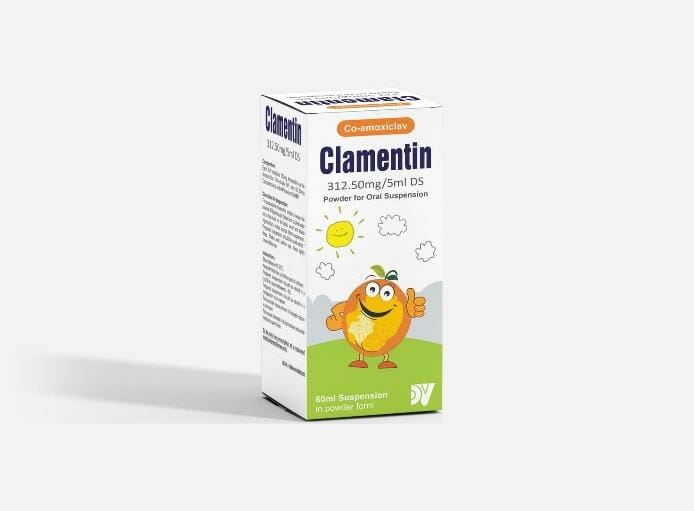 MACROCID
Macrocid contains Clarithromycin, belongs to the macrolide group of antibiotics generally used to treat a wide variety of infections including ear, nose and throat infections, sinusitis, pneumonia, skin & soft tissue infections via offering superior efficacy over the penicillin group of antibiotics. Also Clarithromycin in combination with some other medications used to treat certain types of Ulcers. Clarithromycin suspension is known for the fastest treatment of most kinds of bacterial infections, particularly the one caused by A-typical pathogens  in the case of lower respiratory tract infections such as pneumonia, etc. 
Macrocid by Don Valley can also be used with different suspensions for the treatment of bacterial infections only. Almost more than 123 distributors have made it easier for people to get their hands on the effective products of Don Valley globally. The pharmaceutical products of Don Valley provide cost-effective treatment for pediatric infections which has elevated the Pakistan Pharmaceutical industry export volume across the globe also.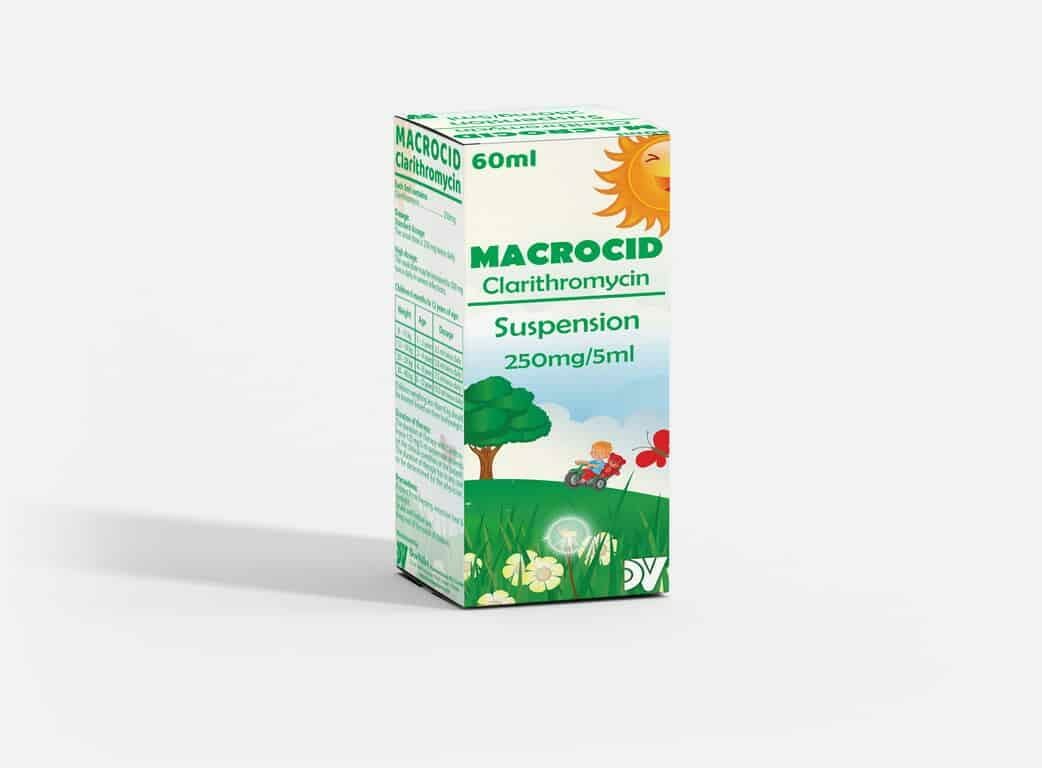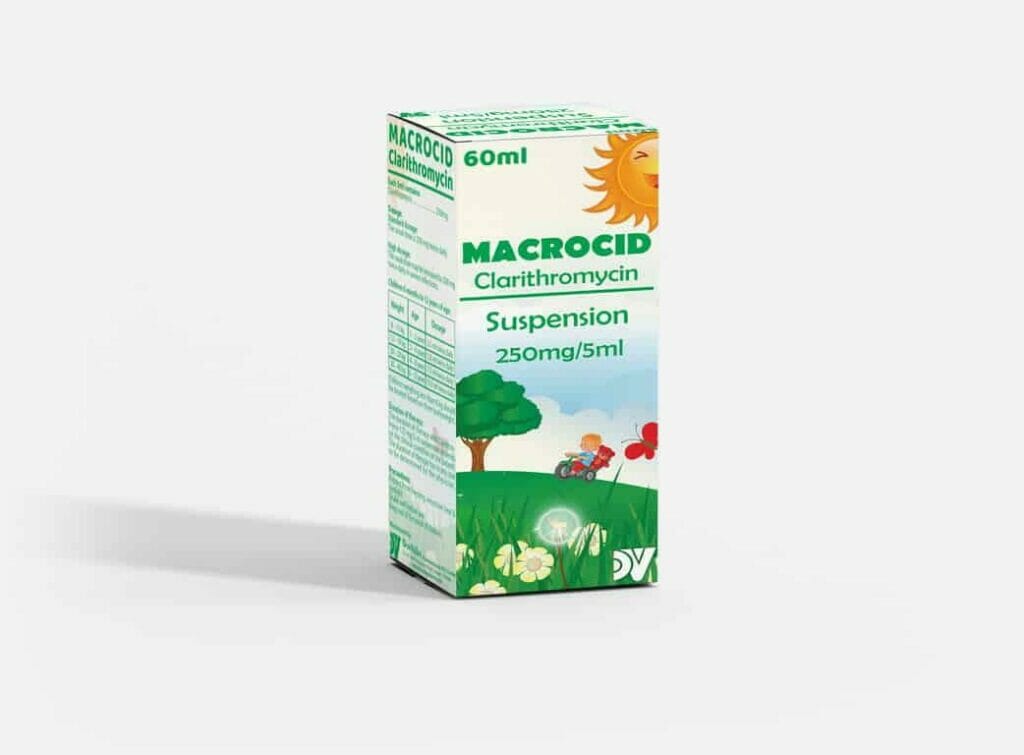 CEFIDON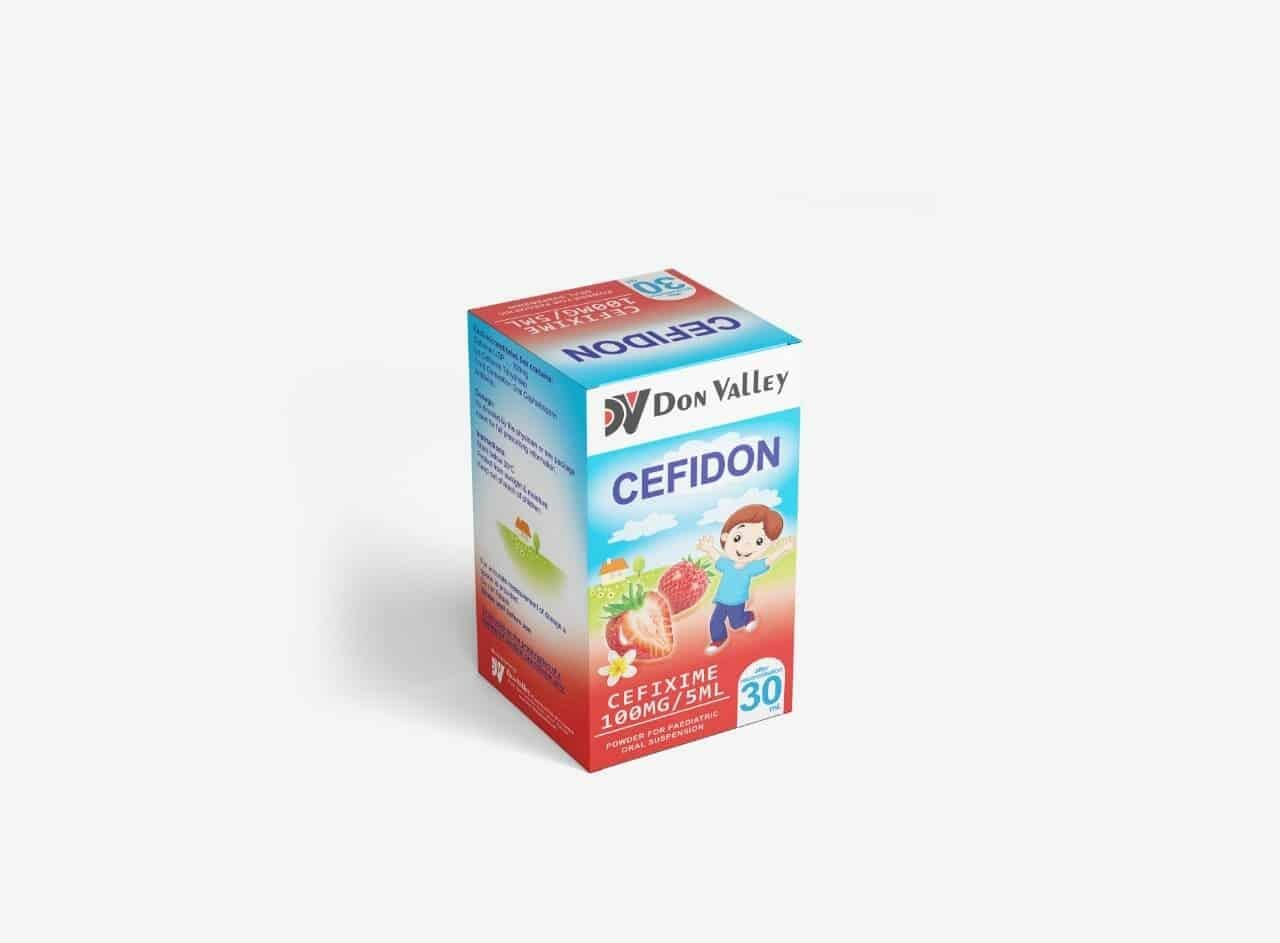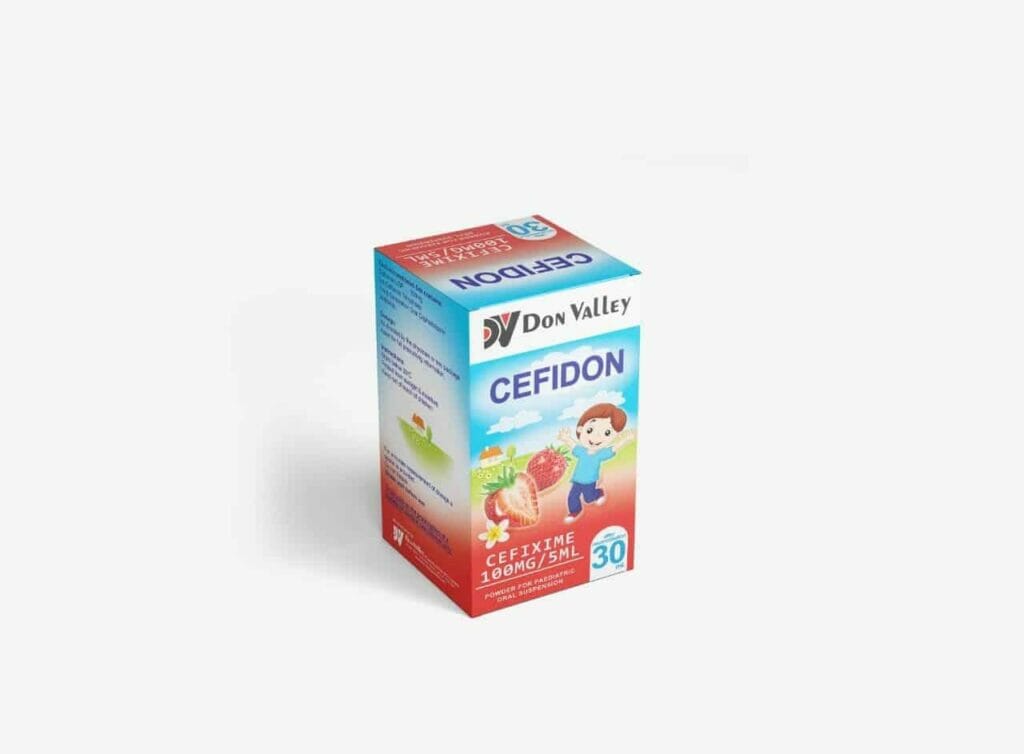 Cefidon contains Cefixime, belongs to the 3rd generation cephalosporin group of antibiotics, the most advanced one. Generally used to treat a wide variety of infections including ear, nose and throat infections, sinusitis, pneumonia, skin & soft tissue infections, typhoid fever, urinary tract infections, etc via offering superior efficacy over the other group of antibiotics. Apart from its strong efficacy, cefixime is generally safe from unwanted effects like other antibiotics. Cefidon suspension is one of the most effective and pocket-friendly medicines for the treatment of bacterial infection amongst children aged between 03 months to 12 years. 
The widest range of cost-effective solutions for pediatric infections by Don Valley has increased Don Valley pharma exports and ultimately Pakistan pharmaceutical exports share. The quality and effectiveness of pharmaceutical products & strong supply chain network by Don Valley has not only increased the consumer number but also made Don Valley achieve 45th FPCCI Export Achievement Award.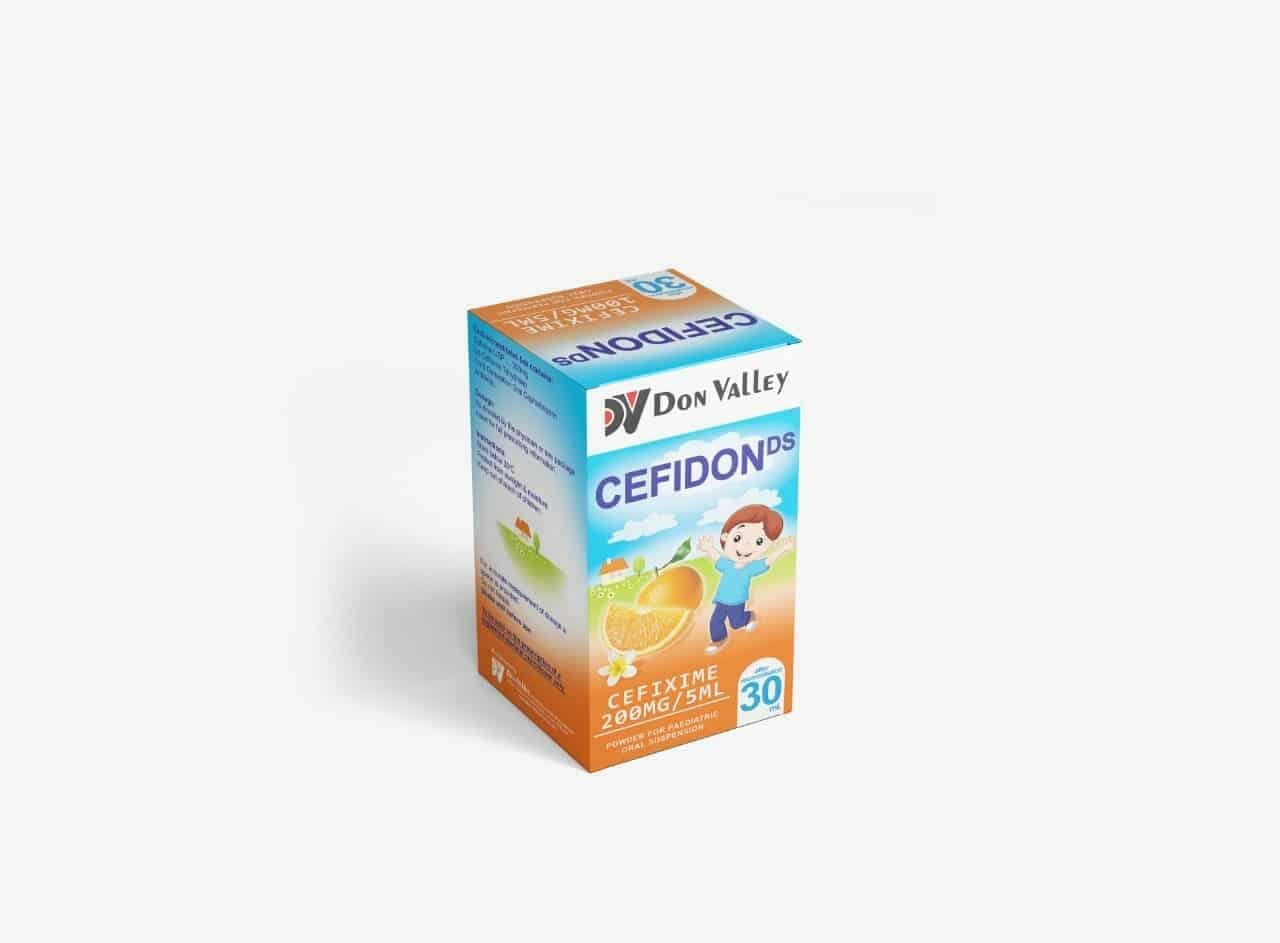 Conclusion:
A wide range of pediatric antibiotic suspensions by Don Valley has provided comfort not only for the kids but also for the parents and prescribers. These effective drugs created for multiple infections allow you to treat your children inside the premises of your house. Don Valley Pharma understands children and their tantrums for which they have created medicines in different highly palatable flavors with efficacy and economy.