Small kids need more care as compared to grown-up ones. This is why most of the time women who are experiencing motherhood for the first time get scared when dealing with sick children. It is very common for children to catch flu, fever, or cough during the winter season. For all parents, it is very important to be aware of the minor and common illnesses that a child can suffer from. Being already aware of the common ailments allows you to do early detection. So many pharmaceutical companies in Pakistan are providing quality treatment options in pharma and natural categories  for common ailments in children. When it comes to medicine manufacturing units in Pakistan, we see an increasing number of medicine companies. These companies are working effortlessly to provide effective, rapid, and safe relief for children. 
Pharmaceutical industries in Pakistan are contributing to a big extent to the production of medicines. With harsh weather conditions in Pakistan and an excessive amount of pollution particularly smog, the number of common ailments among children is increasing today. Most children below the age of three are mostly likely to suffer from worsening medical conditions as compared to children who are aged above three. Let's find out the list of common ailments and their medication. 
Ear Pain
It is one of the most common ailments found today in children today. This medical condition can occur for many reasons including an ear infection. Other reasons may include skin infection inside the ear canal, sinus infection of cold pressure, any kind of tooth pains going straight up to an ear from the jaw, and several other reasons. Amoxicillin being the first line of medication, is the best solution for relief from ear pain, in case of an ear related infection. You can get a sufficient amount of amoxicillin through the highly effective Amoxicap Suspension by Don Valley. 
This medicine by Don Valley comes in two different variants of 125mg and 250mg. This medicine plays a very vital role in providing the fastest relief from ear infection related pain, swelling, fever, etc in toddlers and is highly recommended by most pediatrics.  
Cough
Cough is the second most common ailment in toddlers after stomach infections. Coughing does not require instant treatment as it may go away on its own in some time but if the problem persists, you should consult a doctor. The main reason for coughing in toddlers is flu and fever,and airways inflammation leading to infection. Suffering from constant coughing is painful and irritating.
Your search for prompt relief from coughing comes to an end with IVYMAX drops by Don Valley. These drops are produced using the natural Ivy leaf extract and are highly beneficial for the treatment of cough in toddlers. These drops come with no additional sugar, which helps them in maintaining the original Ivy extract in wonderful taste. These drops by Don Valley are extremely useful for kids aged above six months.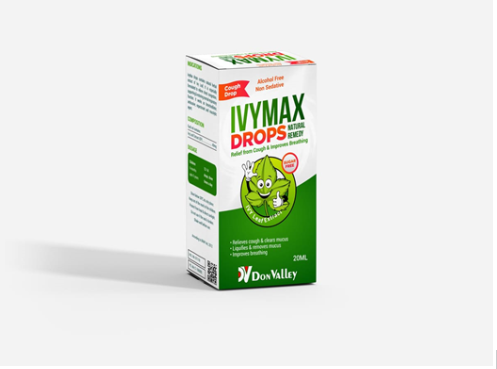 Don Valley, being one of the top pharmaceutical companies in Pakistan makes sure that its consumers are always accommodated with their products and that is why they keep expanding their distributional network to ensure easy access to their products in local markets & across the globe.
Weak Bones
A little carelessness can cause toddlers to suffer with weakened bones leading to walking disabilities, postural problems, immune system deficiencies, etc. The consumption of vitamin D3 is a must for proper absorption of calcium & phosphorus, making bones & structure stronger. A sufficient quantity of Vitamin D3 is able to help kids cope with weak bones. Now the question is where to find such suspension, which allows kids to strengthen their bones without having any medical side effects on their health.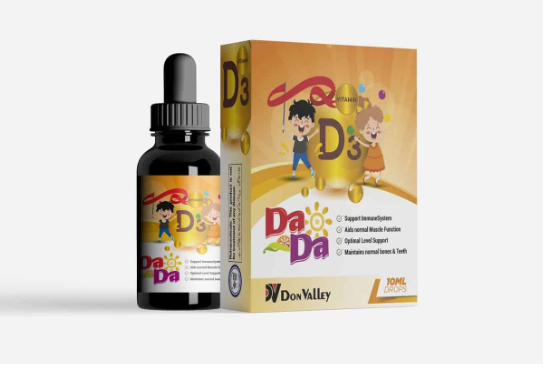 This is when you need to treat your children with DaDa drops by Don Valley. DaDa Drops have an adequate amount of Vitamin D3 which caters to the calcium and phosphorus needs of the toddler's body. These drops contain an ideal amount of Vitamin D3 that only provides strength but also eliminates the increased risk of allergic sensitization and improves body immune response. The multiple award-winning pharmaceutical company of Pakistan, Don Valley takes the charge of providing a complete range of pediatric medication for every common and complicated ailment.
Iron deficiency
Most kids today in Pakistan are suffering from Iron deficiency due to malnutrition, unhealthy diet, etc which eventually impacts the overall well-being of our children. This deficiency affects everything in a body including eyesight, muscles, hair, joints, nails, teeth, and whatnot. This deficiency can be eliminated by using the highly recommended Feridon Syrup by Don Valley. This syrup is made of enough quantities of Iron, L – Methyl Folate, Vitamin C, and Vitamin B12. The combination of mentioned substances helps in overcoming vitamin deficiencies in a toddler's body and enables them to enjoy their growth. By using this syrup you will feel a noticeable change in the well-being of your children as they will be more active, energetic, and present in the moment.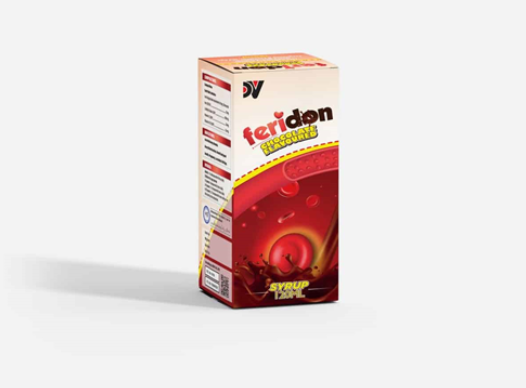 Don Valley is one of the best pharmaceutical companies in Pakistan that is producing medicines for every disease, every age, and every gender. With more than 123 distributors all over the globe, Don Valley has reached corners of the world. Their medicines are a huge part of Pakistani exports now. Getting your hands on high-quality medicines by Don Valley is not a problem anymore with their expanding distributional network.