Pakistan has been making a name in different fields including sports, agriculture, entertainment, and Pharmaceuticals. No doubt that Pakistan is in the developing phase right now and Pharmaceutical products like medicines and vaccines being produced inside the country are for sure a massive milestone that we have achieved. When talking about the top pharmaceutical companies in Pakistan that not only contributes to the health sector but also domestic growth & national exports, Don Valley breaks all the records over the past few years. This company has been serving the nation with high-quality conscious medicines since 1995. Being one of the top pharmaceutical companies in Pakistan, Don Valley has been producing anti-infective, cardiovascular, haematinics, musculoskeletal, respiratory, nutraceutical, diabetes, CNS, gastrointestinal, nutraceuticals and other kinds of medicines for serving the nation and global markets. These medicines are not only consumed by Pakistani consumers but also being exported to different countries all over the world with the help of a strong supply chain network of 123 distributors.
What Makes Don Valley Different?
As a highly responsive, dedicated, and committed team, Don Valley is setting new goals for personal growth every year. Don Valley is building its 27-year legacy of undeniable industrial-level leadership by providing cost-effective treatment for more than 150 million patients all over the country. Don Valley is not only the best pharmaceutical company in Lahore but also among the few leading progressive companies of the entire country. With more than 123 distributors working with Don Valley globally, we make sure everyone from every corner of the country & globe has easy access to our products.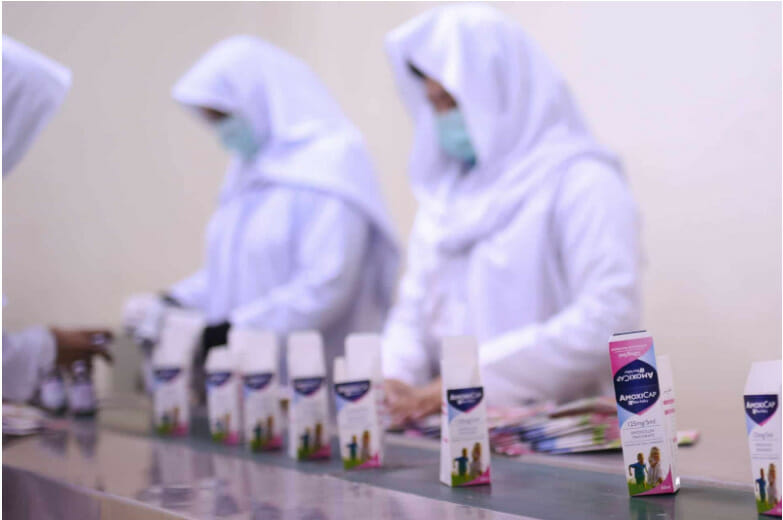 Don Valley takes the charge of being the best medicine company in Pakistan and plays a major role in providing medicines for people belonging to every age group. No matter if you have infants or adults in your house suffering from minor ailments to difficult infections such as Pneumonia, typhoid, or cardiovascular problems and or others, our quality-conscious medicines are prepared accordingly for different patients. We make sure that the best quality components are used for the production of medicines for everyone in both pharmaceutical and nutraceutical products. 
Don Valley is always aspiring to extend its leadership position by increasing our range of medicine, introducing innovative novel molecules  for cost-effective therapies, exporting more products, and always staying on the right side for a better and brighter future. We are ambitious to constantly produce and progress access to quality medicines to help patients in improving their life's quality. Our key pharmaceutical products include Amoxicap range, Cefidon range, Clamentin range, Macrocid range, DV-Cef injections, etc and nutraceutical products including Vit D3, Calcium & Vit D3 combination, Ivyleaf preparations, Antacid, Multivitamins, Probiotics, Q10 enzyme preparations, etc.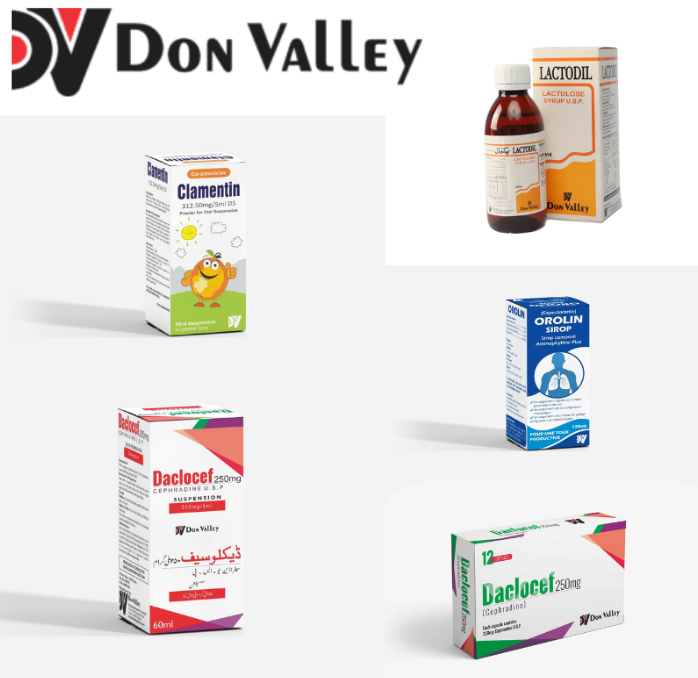 How to become a distribution partner with Don Valley?
Our distribution network covers more than 100,000 pharmacies in Pakistan and across the globe. With an extensive network of more than 123 distributors around the world, we make sure that our medicines are available in every region and everyone has access to them without any hustle. We make sure that the medicines are never unavailable in your region.
We understand that working with a leading pharmaceutical company can be a tough and exhausting task, but we make sure that all distributors are having all the leverage to earn as much as they can.
We allow our distributors to have access to all of the medicines that we are producing. Our specialist also explains the importance and uses of different medicines so that distributors can have a better idea about which medicine to pick and vice versa. When we talk about one of the major reasons for Don Valley pharma's success, the answer lies in the strong nationwide and across the globe distribution network. Our long-lasting relationship with our distributor is what makes us one of the top national pharmaceutical companies in Pakistan. Our customer and distributor representatives make sure that all of our distributors are in the loop with the company and are working with full efforts for the mutual success of Don Valley. With almost 123 distributors in Pakistan and outside the borders, we are still accepting distribution of requests from all over the globe. You can apply to become a distributor by clicking here.
Don Valley pharmaceutical is one of the outstanding medicine companies expanding its operations in Pakistan and exporting medicines to more than 18 countries. The wide range of medicines being produced inside the country allows the Pakistani nation to treat most ailments with cost-effective means. Don Valley also provides employment opportunities to hundreds of people by becoming a part of Don Valley manufacturing & marketing teams or a distributor.
Nutraceutical products by Don Valley are another reason why people keep choosing us over and over again. Our Pharmaceutical and Nutraceutical medicines are manufactured especially for the needs of patients in Pakistan and across the globe, after complete background knowledge. Don Valley provides medical treatments differently for people of every age with the same medicines but with different compositions.