Many people are confronted with various ailments due to abrupt changes in season. The most common health problems they face are viral and bacterial infections. However, in today's world, there are many 3rd party manufacturing pharmaceuticals. Because the public cannot take any risks with their health, they cannot simply choose any medication. A reputable and trustworthy company will ensure your health.
Don Valley has successfully established itself as one of Pakistan's top pharmaceutical companies in Pakistan in 2022. The company manufactures several anti-infectives, earning them a spot among Pakistan's best medicine companies. Because of its improved production specifications and modern architecture processing plant, it produced high-quality anti-infective goods at a low cost while meeting and exceeding international demand.
At Don Valley, we believe in diversity. Rather than focusing on a single issue, Don Valley strives to provide our customers with various solutions. A medication facility for all your medical needs, from acute to chronic, necessary supplements, and various bacterial and viral infections. These drugs will assist you in maintaining your treasured health. As Pakistan's top pharmaceutical company, we believe in making Pakistan a pleasant place for everyone, regardless of social status.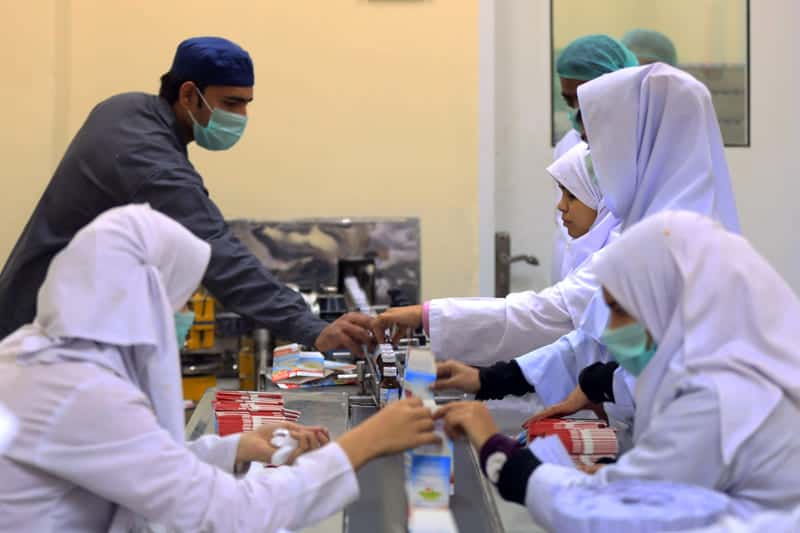 Every life matters 
Everyone deserves quality health, but adverse experiences can influence physical and emotional health. Furthermore, the survey reveals that most of those affected by such diseases are from lower or lower-middle socioeconomic classes. So, it has become necessary to have medication that everyone can afford conveniently. The Don Valley is the best medicine manufacturing company and has your back when you need a rescuer to supply you with the best medications and treatment options. The company has a track record of delivering high-quality drugs at attractive prices. As we know, Health is Wealth! So, the company's motto is to supply medicines to every person to save and protect one's precious life. 
Anti-infective by Yours Truly 
The climate is changing gradually, and the rate of people affected by viral and bacterial diseases has also increased. So, we need a pharmaceutical to help the public, to fight infectious diseases. Don Valley provides the support and back that people need in such scenarios. Our line of antibiotics is appreciable. The firm employs 300+ people who work around the clock to suit the Pakistan pharmaceutical industries' demands. We also offer microbiological laboratories and testing labs with exceptional testing quality. Some of our Anti-bacterial are listed below; you can read, identify and grab your prescribed one. 
Anti-infective pharmaceuticals include antibacterial, antiviral, antifungal, and anti-parasitic treatments that work to prevent or treat infections. These anti-infectives contribute a major share of Pakistan's pharmaceutical exports.
DV-CEF – 250mg 
This is a vial injection of 250mg dose. In medication, dose matters; a high amount can lead to serious health problems or even death. So always buy and use your prescribed one. Ceftriaxone Sodium is the generic name for this injection on the market. DV-CEF is a powerful antibiotic that is active against many bacteria.
Ceftriaxone is used to treat bacterial infections caused by E.coli throughout the body. This medication is also used to prevent infections before some types of surgery. Ceftriaxone belongs to the antibiotic class known as Cephalosporins. It acts by either killing or inhibiting the development of bacteria.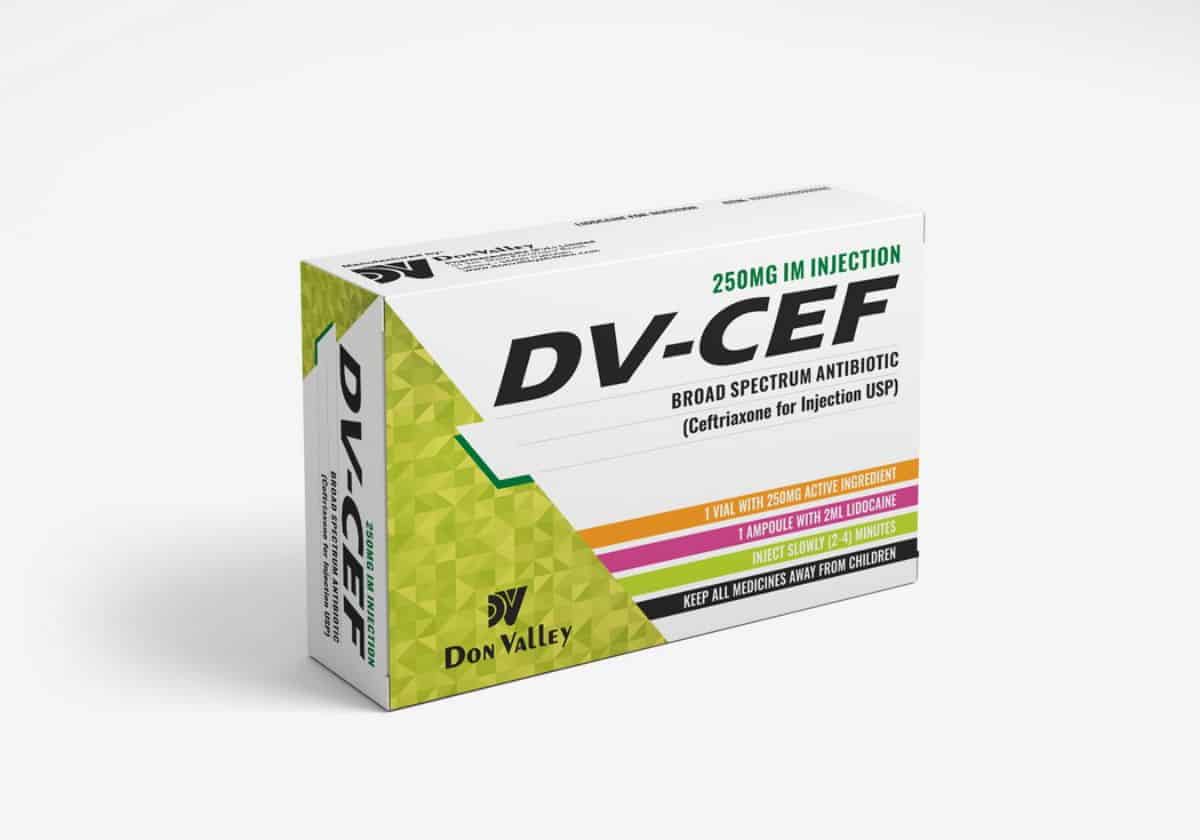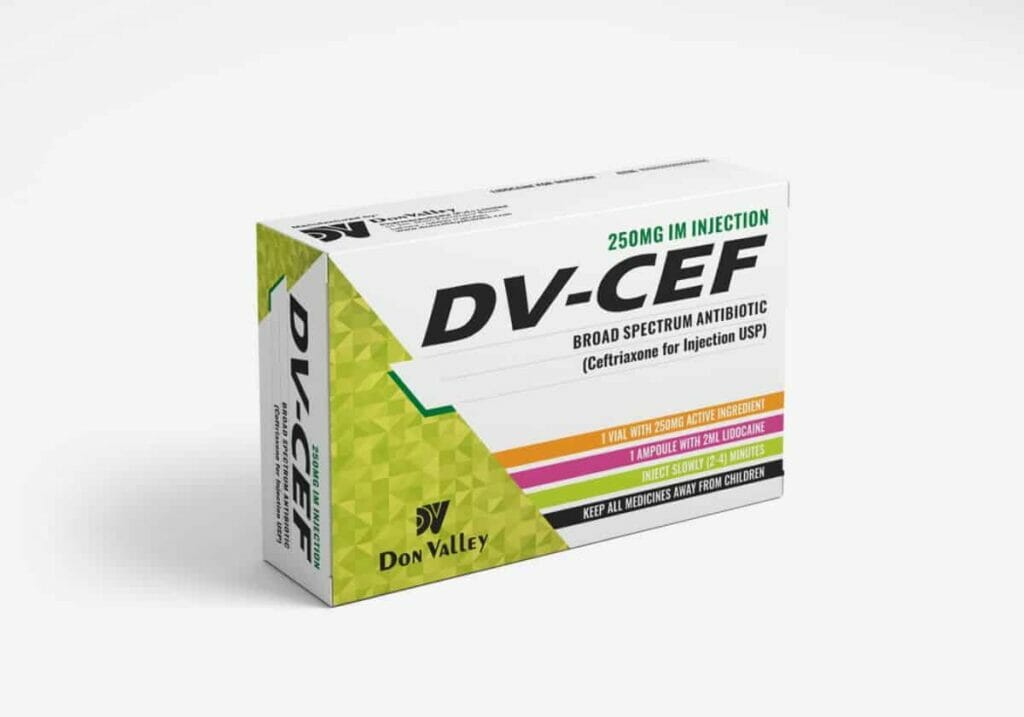 DV-CEF – 1g 
Age, body weight, gender, administration method, time of administration, ambient circumstances, illness status, and other factors influence medicine dosage. Giving the same medication dose to a smaller individual may result in a greater blood concentration than sharing the same drug dose with a larger person. As a result, many medications are administered in lesser quantities to youngsters than adults. DV-CEF 1g is particularly prescribed to adults. Ceftriaxone injection fights infections such as gonorrhea (a sexually transmitted illness), pelvic inflammatory disorder (a condition of the female reproductive organs that can lead to infertility), and meningitis. 
Cefidon Capsule
These capsules are of 400mg dose and have Cefixime as their common name. Cefixime capsules can be taken before or after eating. With a sip of water, swallow the pills whole. If you take more than one dose daily, space them out equally throughout the day. Unless your doctor instructs you otherwise, continue taking the antibiotic until the course is completed. During the pandemic, Cefixime was used for COVID in combination with azithromycin, vitamin C, vitamin D, and zinc. Many people are puzzled by its application, whether it is a pain reliever or not; we will clarify this for you here. Cefim Tablet is an antibiotic that contains the active component Cefpodoxime. It treats bacterial infections such as pneumonia, bronchitis, and various skin, ear, nose, throat, and urinary tract infections.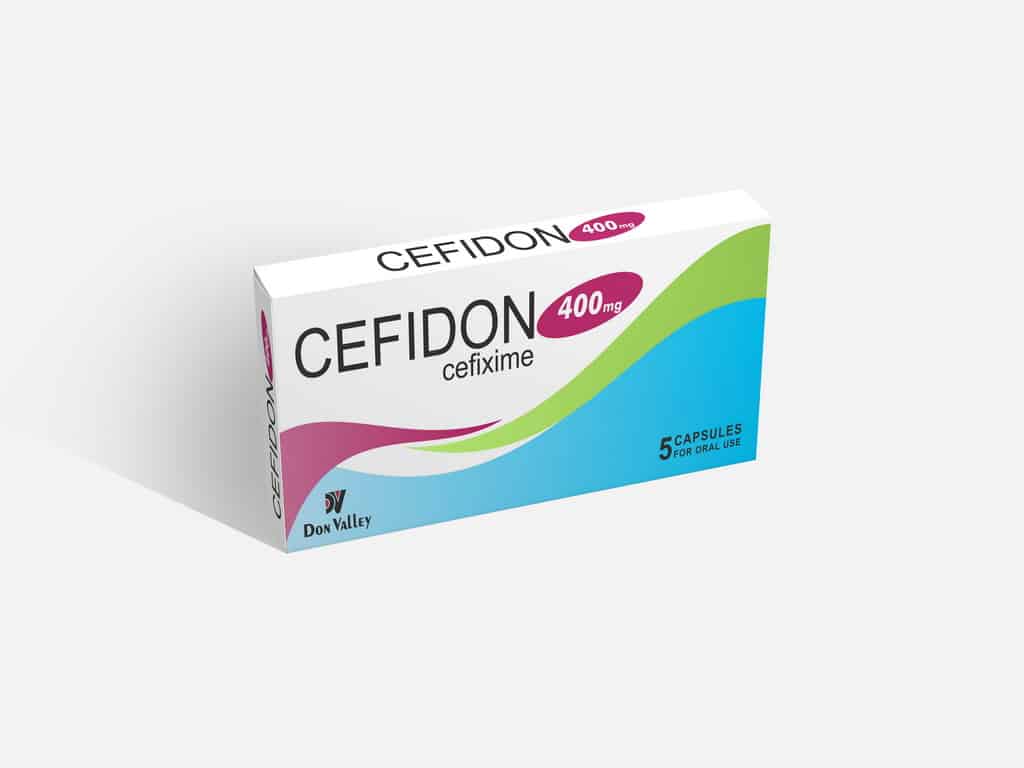 Cefidon Suspension
At Don Valley, they are available in two doses. 100mg and 200mg. Cefidon is a powder for oral suspension in children. Don Valley, the best medicine company in Pakistan, produces this syrup. Cefixime (100mg/5ml) is the active component of this medication. This drug is a powerful cephalosporin used to treat bacterial infections in children. Please consult the package insert for complete prescription information as your doctor prescribes. A spoon is included for appropriate dose-measuring. For children aged six months to 12 years, the dose is chosen by your doctor and depends on your body weight. The standard daily dose is 8 milligrams (mg) per kilogram (kg) of body weight, either as a single dose or divided into two doses (4 mg/kg of body weight after every 12 hours).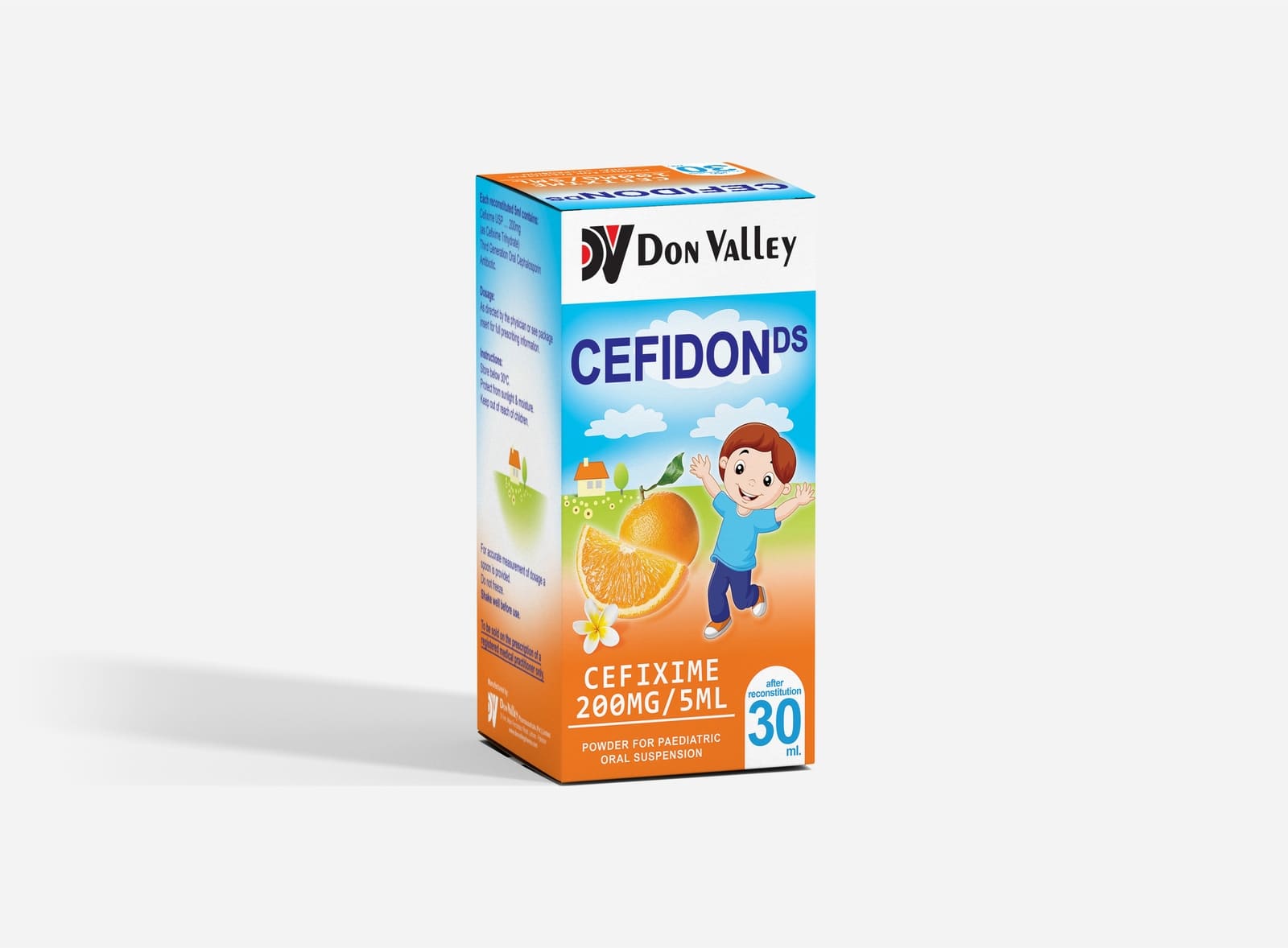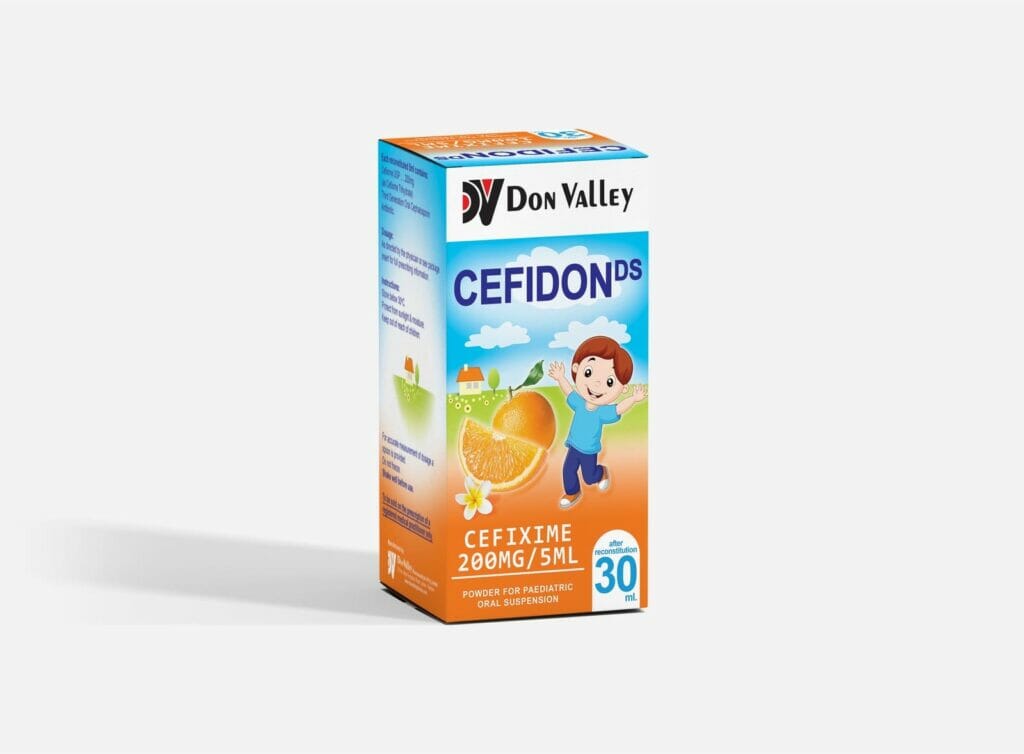 Save your time and health with us. 
In this day and age of internet purchasing, the company allows its customers to acquire their medications over online networks. Our website contains a guideline and recommendations for available medicines. 
Why Should You Go with Don Valley?
Don Valley Pharmaceuticals is a significant pharmaceutical company in Pakistan dedicated to growth. Technological developments have allowed us to build more distribution facilities in a thriving business. Don Valley Pharma is a noteworthy maker of anti-infectives. These drugs are the most effective in developing immunity. Our company has a global retail network that is constantly increasing.
Regarding client satisfaction, we are one of the leading international Pharma suppliers. We have high export objectives and strive to regularly develop and maintain quality for our overseas customers. We are committed to exceeding its export targets. Don Valley is one of the leading pharmaceutical exporters in Pakistan, and we are investigating new avenues for expansion in this industry in connection with our customer success approach. We have exported our goods to leading pharmaceutical businesses in Uganda, Cambodia, Sri Lanka, and Yemen.