Pharma manufacturing companies are pivotal to the global economy. Pakistan's pharmaceutical sectors are credible and principled, intending to treat patients. Addressing the medical challenges of the ordinary man, these medicine businesses are leading the way with their breakthroughs in various medical items and technology. As science and technology develop, these businesses bring new medication formulations to market, assisting patients facing a range of life-threatening ailments. 
Don Valley Pharmaceuticals has also launched a healthcare subsidiary. All the items have high-quality natural components with no adverse side effects. 

Multinational pharmaceutical companies in Pakistan
Don Valley is a well-known multinational pharmaceutical company in Pakistan operating for more than 25 years in domestic markets, leading Govt Institutions and International markets. We are a global network of 18 nations, including Kenya, Nigeria, Afghanistan, and many more. We have 123 distributors worldwide, and our distribution network covers over 100,000 pharmacies in Pakistan and throughout the world. With these wholesalers, we aim to reach every corner of the globe with our pharmaceutical goods. We provide incredibly competitive profitability, small effective make, different online transactions, logistical oversight, and other services, making it the ideal partner with which to interact. Regionally we are the best medicine company in Pakistan that's why FPCCI (The Federation of Pakistan Chamber of Commerce and Industry) awarded us with 45th Export Achievement Award.
Top Pharma Distribution Company
The technology used in Don Valley fulfills all DRAP regulations and has unique production frameworks to supply a variety of medical amenities. It involves the production of anti-cancer medications, cephalosporin, antibiotics, cream and ointment, ophthalmic drops, and various other products. Don Valley is one of the primary pharmaceutical industries in Pakistan with competence in producing penicillin. All the machinery is approved by GMP, and environmental quality is ensured in each part by a dust removal system, HVAC system to avoid contamination, and reverse osmosis-based water purification system. WFI facilitates the purification of water. 
All aspects of medication manufacture, from material selection to disposal, are overseen by highly qualified personnel. This ensures the drug's solubility, taste, lifespan, viscosity, preservation, and other pharmacological properties. Don Valley adheres to the most recent cGMP (Good Manufacturing Practice) and cGLP standards, as well as the obligatory SOPs. Because of the techniques mentioned earlier, it is one of the top pharmaceutical companies in Pakistan.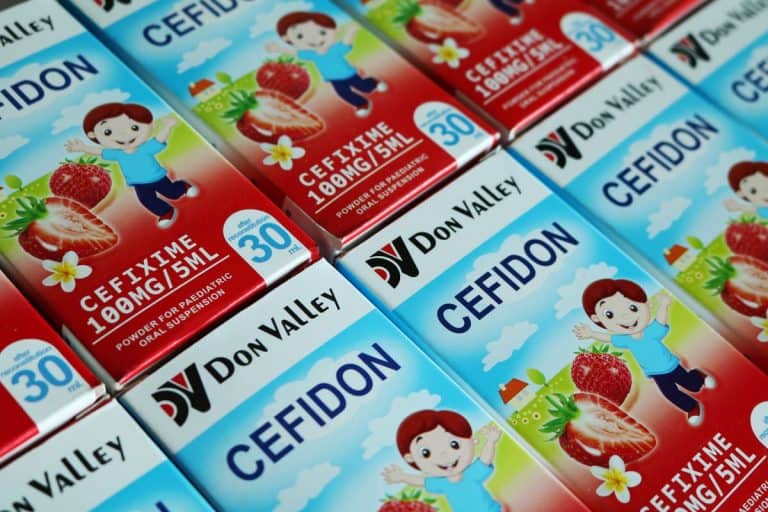 Growth Supporting Natural Options – Nutraceuticals
Nutraceuticals are also known as therapeutic or nutritionally beneficial food kinds. The demand for wholesome food is growing steadily to address various difficulties connected to health advantages. An adequate diet is the key to excellent health! Unfortunately, most of us cannot have a nutritious, balanced meal daily due to time constraints imposed by a hectic way of life. Pesticides in food and a lack of nutritional value during the cooking process render what we consume useless. 
Don Valley Pharmaceuticals (Pvt.) Ltd.'s development R&D office has nurtured a wide range of new nutraceutical and food supplement items to reintroduce essential minerals and nutrients into your body. We cover a broad range of nutraceutical medication for third-party production, such as Garcinia Cambodia, Vitamin D3 and its combinations, Co-enzyme Q10, Omega 3 Fatty Acids, Vitamins & Minerals combinations, IVYLEAF preparations and so on. We have a cGMP and cGLP certified manufacturing facility endorsed by Multiple ISO certifications. Our quality standard is per DRAP and cGMP Forums, making us one of the Best Nutraceutical Companies in Lahore.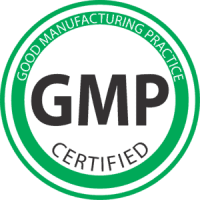 Don Valley is the top Nutraceutical Company in Lahore
.
In Pakistan, the nutraceutical sector has grown to a $3 billion industry in five years. It is expected to grow to $6.1 billion by 2022. The nutraceutical dietary supplement market is growing as people become more conscious of their health and longevity. The enthusiasm for nutraceutical goods in the industry is expanding each year. Furthermore, research has revealed that Nutraceuticals can significantly delay the aging process in adults, boost life expectancy, and support the body's capacities. Following are some best nutraceutical products by Don Valley.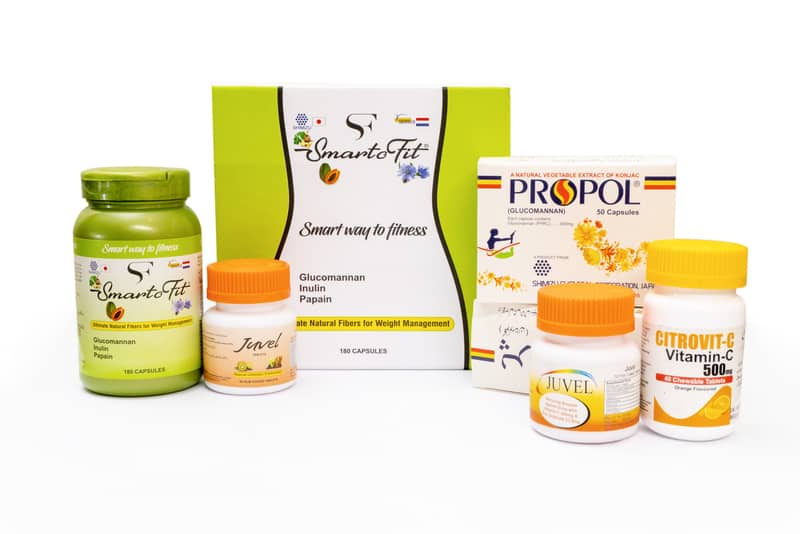 Propol – To Control Diabetes and Cholesterol: 
Propol is an EU-EFSA-approved obesity therapy authorized by the FDA in 52 countries. It is a natural fat burner that lowers cholesterol without generating any adverse side effects. Many pharmaceutical companies in Lahore have also recognized this medication. Propol is a water-soluble dietary fiber that occurs naturally and has no calories. It can reduce body weight by gradually each week. Propol is derived from glucomannan (Konjac root) in EFSA-approved levels for weight loss. When you take Propol, it starts working in your stomach and expands up to 50 times, generating a gel. The stomach perceives the gel similarly to food, prolonging gastric emptying, creating a feeling of fullness, and decreasing the urge to consume subsequent meals.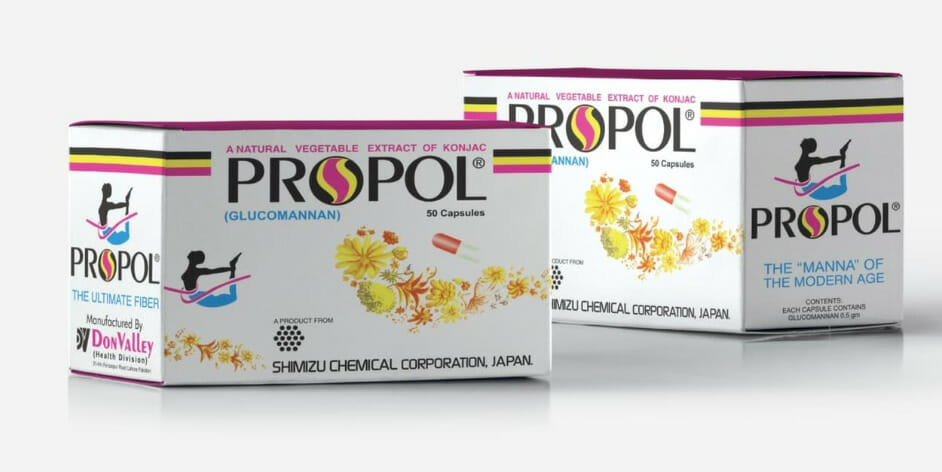 Multidon Syrup
This multivitamin syrup treats or prevents vitamins and minerals insufficiency caused by a poor diet, certain diseases, pregnancy or being aged. Vitamins and minerals are crucial body-building components that help you stay healthy. This multivitamin syrup can be beneficial for people who are unable to meet their daily dietary requirements through food alone; on the other hand, it cannot substitute a well-balanced diet, and taking too many of them can cause adverse effects ranging from moderate stomach irritation to severe multiple issues depending upon dosage & duration taken, concomitant drugs taken, etc.
Take this drug by mouth once a day or as instructed. Follow all product instructions or take as prescribed by your doctor. Do not exceed the specified dosage. If you have any concerns, see your doctor or pharmacist. To precisely measure the specified dose, use medication-measuring equipment. Don Valley is concerned about its customer's well-being, considering that we also facilitate you with a measuring spoon to avoid using a regular spoon. That's what makes us the best pharmaceutical companies in Pakistan. If your medication is a liquid, thoroughly shake the bottle before each dose. To get the most out of this drug, take it daily. Take it at the same time every day to help you remember.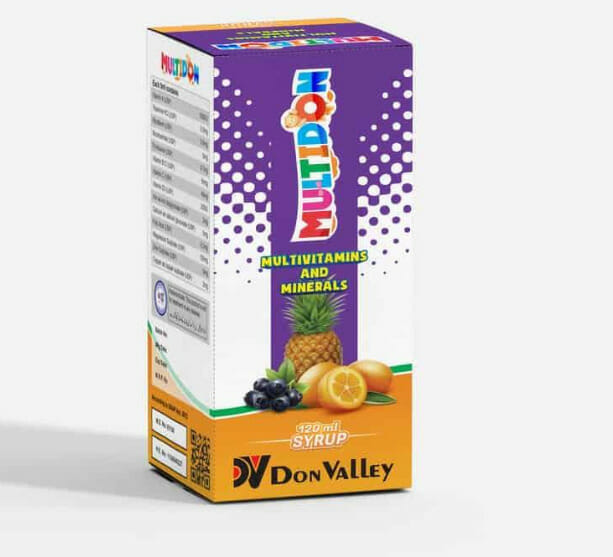 Feridon Syrup by a major medical company in Pakistan
Feridon Syrup 120 ml is a 'nutritional supplement' primarily used to treat iron deficiency anemia and nutritional inadequacies. A lack of iron anemia occurs when the body does not manufacture enough red blood cells owing to insufficient iron levels resulting in insufficient oxygen levels in tissues & organs, compromising their functions. Other than these, we can use this syrup in treating the following conditions; During pregnancy, Neurological disorders, Heart problems, Sunburn, Skin itching, Diarrhea,.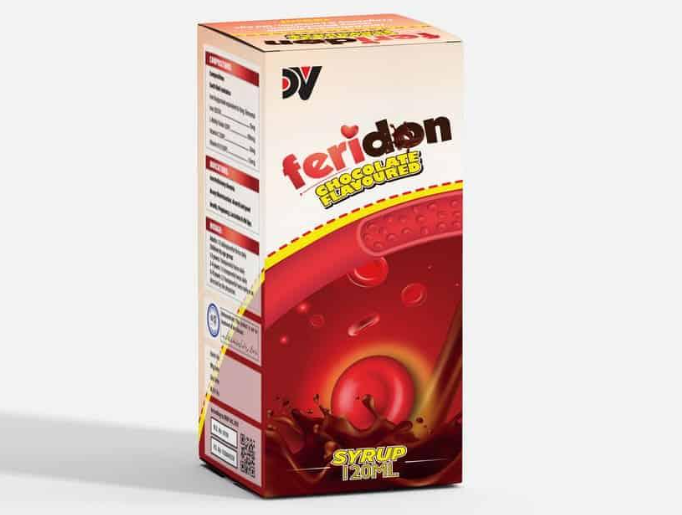 SmartoFit – Natural fibers for weight management:
SmartoFit is FDA-approved in about 52 countries worldwide. It has raised to the top of the weight management fiber rankings among global pharmaceutical businesses in Pakistan. These natural fibers for weight management comprise glucomannan, inulin, and papain. Glucomannan and inulin act together to expand the stomach, sending a fullness signal to the brain and helping with weight management. However, pregnant and breastfeeding women and anyone experiencing severe allergic reactions should see a doctor before using this medication.