What is smog
Smog is an environmental condition where the fog and smoke mix to an extent where the visibility is reduced.  The word Smog is created using two words, Smoke and Fog, and was first used in the 1900s. Smog is mostly found in industrial areas but is very common in cities these days. The majority of smog found today is known as "photochemical" smog. Photochemical smog comes into existence when sunlight directly reacts with the particles of nitrogen oxide and VOC (volatile organic compound) available in the atmosphere.
Smog is very unhealthy for every kind of life on earth. Human beings, animals, birds, plants, and sea animals, smog is affecting everyone in one way or another. It changes the sky color into brown or gray and sometimes into black. The visibility ratio is decreased to a minimal level. The highest ratio of smog is found in big cities where there are a lot of construction activities, industries, and traffic. Some countries restrict the use of compounds that cause the formation of smog. While some countries have specified "burn days' ' where the residents are allowed to burn their waste but only by following prescribed protocols.
What is smog made of?
Nitrogen Oxide is available in large quantities all over the world because it is produced using smoke extracted by vehicles, power generators, and heavy-duty machinery. While on the other, paints, gasoline, plastic & its byproducts and cleaning solvents are one of the major sources of producing VOC. We see that these two compositions are available in a large range in our atmosphere, which increases the amount of smog.
How can we reduce smog?
Minimal use of automobiles, prefer walking or riding a bicycle

and or usage of EV's in private and public transport systems

.

 

Keep an eye on the engine & oil of your vehicles. Keep them upto the mark & clean all the time so they produce less smoke.

  

Avoid products that produce a higher ratio of VOC particles.

  

Keep your vehicle's tires up to date.

 

Use electric appliances more than gaseous appliances. (Water geyser, room heaters)
Diseases caused by smog
Smog has become one of the largest means of diseases among human beings and animals. According to the World Health Organization, one out of every eight people died due to air pollution. When we talk about the pharma companies in Pakistan we identify a few options helpful  in decreasing the smog sufferers. Further details are shared to display links between indoor and outdoor air pollution, and their role in developing cardiovascular and respiratory diseases. A few of the most common diseases spreading due to smog are as follow:
Skin and eyes irritation, allergies and inflammation

Breathing issues such as allergic rhinitis, asthma, etc

Increase in Chronic obstructive pulmonary disease (COPD) cases

Acute lower respiratory infection

Increase in Lungs cancer cases

Ischemic heart disease

 

Stroke

 
Natural preventive tips
 

Avoid Morning Walks

without mask

Drive less – decrease fuel consumption

 

Stay hydrated – drink a lot of water, juices, and energy drinks

 

Make use of a mask mandatory in your routine

 

Use air-purifying appliances for your house and workplaces

 

Keep your kitchen, bathroom, and lobbies ventilated

 

Minimize outdoor activities for your kids

 

Increase intake of citric fruits and Vitamin C,

D

, etc

 

Clean yourself every time you come home

 

Take

steam, more organic juices, herbal tea and nuts

. 

  

Plant more trees

  

Avoid smoking indoors

  

Avoid doing exercise outdoor
Don Valley products for instant relief
When the topic of discussion is pharmaceutical companies in Pakistan, we have so many companies on the list. However, Don Valley Pharma stands out from the crowd because of its impeccably effective and economical  medicines & easy access to them. We understand that smog has become one of the main reasons for challenging host immunity, triggering allergies & inflammation, if remained unchecked leading to added infections, worsening of existing airways illnesses such as asthma, respiratory tract infections,COPD, ischemic heart diseases, etc. Don Valley, one of the leading top national pharmaceutical companies in Pakistan, takes the charge of providing medicines that give boost to immunity and also relief from smog & its complications.
Multivitamins by Don Valley
Don Valley has been serving its consumers in Pakistan and more than 20 other countries for the last 25 years with the help of a strong supply chain network of 123 distributors across the globe to ensure easy access. The reason why consumers keep choosing Don Valley Pharma repeatedly is their efficacious and economical medicines manufactured on Asia's most sophisticated machinery in line with DRAP and international manufacturing & quality standards. Below are the multivitamins that are highly effective to boost immunity of the host encountering smog and other ailments.  
JUVEL: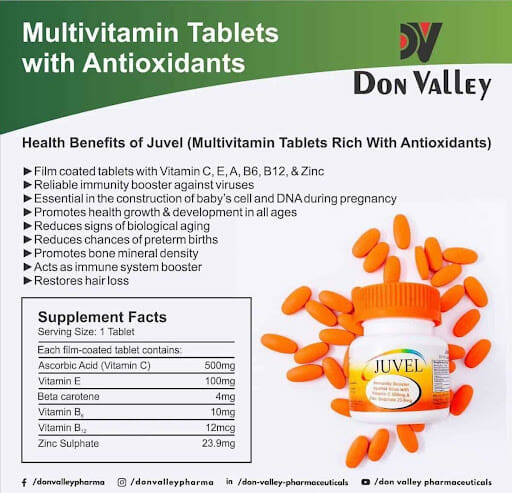 Don Valley pharma has been there for people suffering from covid-19, malnutrition, old age, or some allergies. We support people and try our level best to manufacture medicines that are helpful for the community. JUVEL is a multivitamin tablet made with antioxidants that help the body protect cells from radicals released from damaged or dying cells due to inhaled irritants, inflammations, infections, diabetes, chemotherapy, viruses, etc that may lead to further deterioration of patient health. JUVEL includes vitamins such as C, E, B6, B12, and ZINC. It also lessens the biological age early signs. Furthermore, it also diminishes the chance of preterm birth. JUVEL also helps in the regrowth of hair loss. In addition to that, JUVEL is very effective for allergy patients, since multivitamins particularly Vitamin C, enhance that immune system.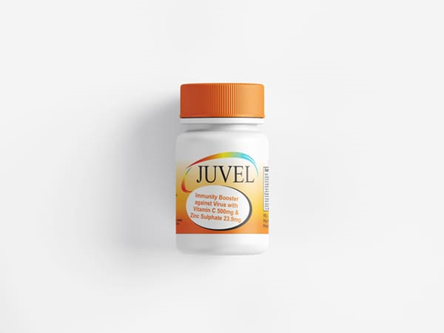 Regular intake of these vitamins can help you in preventing yourself from suffering from smog disorders by boosting immunity.
Citrovit-C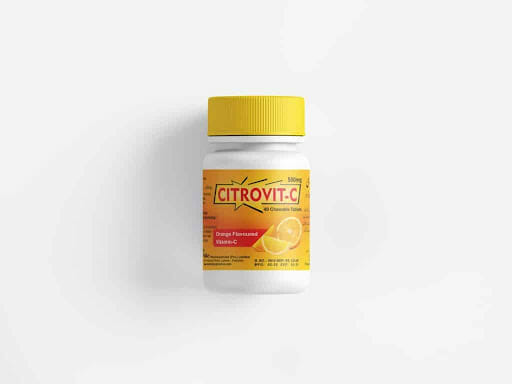 Citrovit-C is our take on vitamin C. Each bottle contains 40 chewable tablets of 500 mg vitamin C. It is available in orange flavor and is a hundred percent sugar-free. Vitamin C is a highly effective immunity booster and acts as a wall of resistance against contagious and harmful viruses such as SARS, Covid-19, Common cold, Smog, allergies, inflammation, etc. It is a highly effective antioxidant that improves your defense against the onset of cancer. It increases the healing power of your body, improves your skin, reduces cholesterol, helps in improving your metabolism, and has countless other benefits.
Multidon Syrup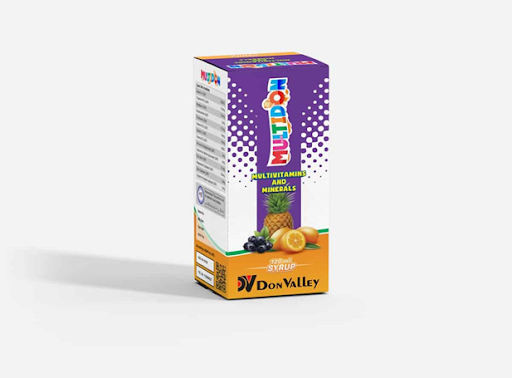 Multidon is one of the best and most comprehensive highly effective multivitamin suspension to fulfill the needs of multiple age groups. This syrup is prepared using a large number of vitamins and minerals. Multidon is rich with a balanced quality of Vitamin A, Vitamin B12, Vitamin D3, Vitamin C, Iron,  Zinc Sulphate, Magnesium sulfate, Copper and many more. This unique combination of Vitamins and Minerals boost body metabolism, immunity, appetite, nerve cell functioning leading to better cognitive functions and overall improvement in body functioning. This is highly consumed and considered the best relief from medical conditions due to smog, allergies, aging, and recovering from prolonged illness. Multidon highly palatable mixed fruit flavor has a high acceptance in all age groups in local and international markets.
 Feridon Syrup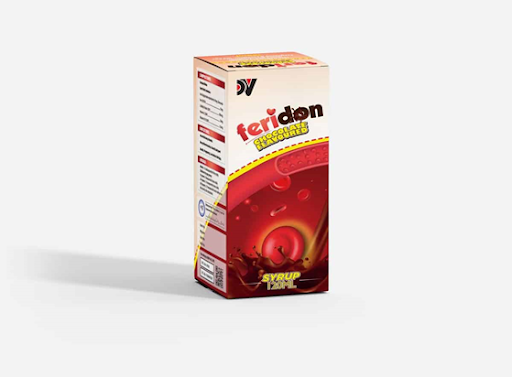 Pharmaceutical companies in Lahore are known for their up-to-the-mark economical medicines. Feridon is one of the multivitamin medicines by Don Valley, which is known as the best suspension when it comes to fighting iron deficiencies and ailments related to it. Vitamin C and Vitamin B12 are found in a balanced quantity in Feridon to support its absorption and improve other body functions such as respiration, nerves cell functioning, immune system, etc. Furthermore the Feridon is available in highly palatable chocolate flavor with its acceptance in local and international markets.
Da-Da drops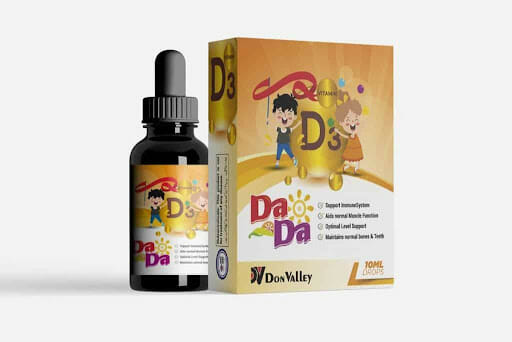 A fat-soluble vitamin called vitamin D3 aids in the body's absorption of calcium and phosphorus. Also Vitamin D3 adequate level reduces increased risk of allergic sensitization, keeps energy levels up and enhances mood. Vitamin D3 improves resistance to certain diseases and acts as an immune modulator. Da-Da drops is a highly effective natural Vit D3 formulation for peads and adults. Da-Da is manufactured and exported by Don Valley Pharma, one of the top pharma companies in Pakistan, across the globe due to its proven efficacy, most palatable taste and economy.
Conclusion
Most women and kids today are suffering from vitamin deficiency due to unhealthy diet and ways of cooking, sedentary lifestyle, etc. The lack of enough vitamins in the human body is likely to cause more diseases. Seasonal diseases highly impact on such bodies. For this, you are suggested to take vitamins to fill up vitamin needs in your body. Multivitamin tablets, suspensions & drops from Don Valley Pharma mentioned above are the most reliable means of overcoming vitamin deficiencies. These pocket-friendly yet highly effective medicines by one of the most renowned nutraceutical companies in Pakistan Don Valley Pharma, are available globally through their 123 distributors supply chain network.