Good diet & physical activity, in the opinion of Don Valley Pharmaceuticals (Pvt.) Ltd and many others, is the key to wonderful health! Tragically, due to time constraints made possible by a hectic style of life, the majority of us are unable to consistently eat a nutritious, balanced diet. What we eat is ineffective because of the use of pesticides in food and a lack of nutrient value during cooking.
One of the top medicine suppliers in Pakistan and exporter from Pakistan is Don Valley Pharmaceuticals (Pvt.) Ltd. Their development office has encouraged a wide range of new nutraceutical and food supplement goods with a goal to restore the essential minerals and nutrients in your body. The specific dietary management of many illnesses and medical conditions uses nutraceutical products. Don Valley has started its foray into the nutraceutical industry with the goal of providing the greatest natural remedies worldwide along with excellent nutrients and dietary supplements, contributing to Pakistan export products.
Nutraceutical
The words "nutrition" and "pharmaceutics" are the roots of the term "nutraceutical." The word is used to describe goods that are isolated from herbal products, dietary supplements (nutrients), certain diets, and processed meals like cereals, fibers, soups, and drinks that are also utilized as medicine in addition to providing nutrition and allied health benefits.
Nutraceutical products are controlled as medications, food additives, and dietary supplements. Although the phrase has distinct meanings in different nations, it is typically understood to refer to a substance that has been separated from food and is typically offered in medical forms unrelated to food. A substance that has a physiological benefit or offers protection against chronic diseases may be referred to as a nutraceutical product and are mainly produced by the pharmaceutical manufacturers in Pakistan according to SOP's and DRAP (Drug Regulatory Authority of Pakistan) rules and regulations.
The benefits of Nutraceutical products
Nutraceuticals can be used to boost wellbeing, slow down aging, stop chronic diseases from occurring and or its progression, lengthen life expectancy, or support the body's structure or functions, shredding off unnecessary cholesterol, fats & weight, improving microcirculation, memory status, etc. Due to their potential for enhancing nutrition, safety, and therapeutic outcomes, nutraceuticals have attracted a lot of attention in recent years. These medicines have demonstrated promising outcomes in a variety of problems, according to recent investigations.
The current focus of progressive pharmaceutical multinational & national companies in Pakistan, is on presenting natural and or herbal nutraceuticals that are helpful against difficult-to-treat conditions linked to oxidative stress, such as allergies, Alzheimer's, cardiovascular, cancer, diabetes, eye, immunological, inflammatory, Parkinson's, and obesity disorders.
Here are some of the benefits of using nutraceutical products from the best pharmaceutical manufacturing companies in Pakistan. 
Allergy and nutraceuticals
An immune system hypersensitivity condition is an allergy. A person often experiences an allergic reaction when their immune system rejects generally benign substances. The increased activation of particular white blood cells known as mast cells and basophils by a kind of antibody known as immunoglobulin E is what makes allergic reactions different in every individual. An inflammatory response is produced by this reaction, which can be uncomfortable or sometimes if remained unchecked may be harmful. Certain nutraceuticals can be helpful in managing this allergic response such as ivy leaf combination products managing allergic and productive cough response.  
Cardiovascular diseases and nutraceuticals
The incidence of CVD is rising globally, as is the amount of research being done in this area. Coronary heart disease (heart attack), peripheral vascular disease, cerebrovascular disease (stroke), hypertension, heart failure, and other conditions are all included under the umbrella term of cardiovascular disease (CVD). Low intake of fruits and vegetables coupled with sedentary lifestyle is thought to be linked to a high CVD mortality rate. The bulk of CVD can be avoided. A diet high in fruits, vegetables & fibers with physical activity has been shown in numerous trials to be protective against CVD.
For the prevention and treatment of CVD, pharmaceutical sector in Pakistan is producing nutraceuticals in the form of vitamins, minerals, antioxidants, dietary fibers, Q-10 coenzyme and omega-3 polyunsaturated fatty acids (n3 PUFAs), as these are advised in conjunction with physical activity. It is thought that the compounds, like polyphenols, change cellular communication and metabolism, which lowers artery disease.
Diabetes and nutraceuticals
Type 2 diabetes, which is connected with obesity and has a 95% prevalence, is the most prevalent type of diabetes. Despite the introduction of numerous medications for the prevention and treatment of diabetes, the overall number of persons with diabetes is rising due to a variety of causes worldwide. Diabetes throws a significant financial strain on society in addition to placing a significant financial burden on each patient and their families.
In recent years, a variety of herbal dietary supplements and nutraceutical medications have been shown to scientifically help type 2 diabetes mellitus in preclinical research. Numerous plant extracts, including bitter melon, cinnamon, and toucrium polium, have been demonstrated to either prevent or help to treat diabetes.
Eye disorders and nutraceuticals
Age-related macular degeneration (AMD) may be prevented by living a healthy lifestyle and eating foods high in antioxidants, including n-3 fatty acids, lutein, and zeaxanthin derivatives. Nutraceuticals abundant in polyphenolic flavonoids have been demonstrated to have antioxidant properties. Green tea, Allium species, Vitamins C and E, polyphenols, carotenoids (primarily lycopene and -carotene), and coenzyme Q10 are examples of nutraceuticals, herbs or herbal extracts that have antioxidant characteristics and are beneficial against AMD.
Immune system and nutraceuticals
Numerous nutraceuticals have been demonstrated to play important roles in immune function and susceptibility to certain disease states. Immunological boosters are a class of nutraceuticals that are useful for enhancing immune performance. Coneflower extracts or plants from the genus Echinacea, such as Echinacea Angustifolia, Echinacea pillida, and Echinacea purpurea, are included in them. Particularly the coneflowers, which are native to the central United States, are utilized as a common herbal treatment there. Also organic sources of Vitamin C boost immunity against common disorders.
The top Nutraceutical products by Don Valley Pharmaceutical
Dv-scon
Don Valley, the best national pharmaceutical company in Pakistan, produces the potent natural treatment for acid related disorders by the brand name of DV-Scon. Dv-Scon with natural ingredients like menthol, anise oil, and peppermint oil is an ideal solution to these disorders. The combination of all these elements offers its customers a variety of health advantages. The main advantages include an improved digestive system, effective relief from: heartburn, indigestion, gas, hyperacidity, and abdominal discomfort. Keeping in view the current sedentary lifestyle, dietary habits of spicy & fast foods, etc in Asian markets DV-Scon enjoys a strong demand due to its efficacy and economy.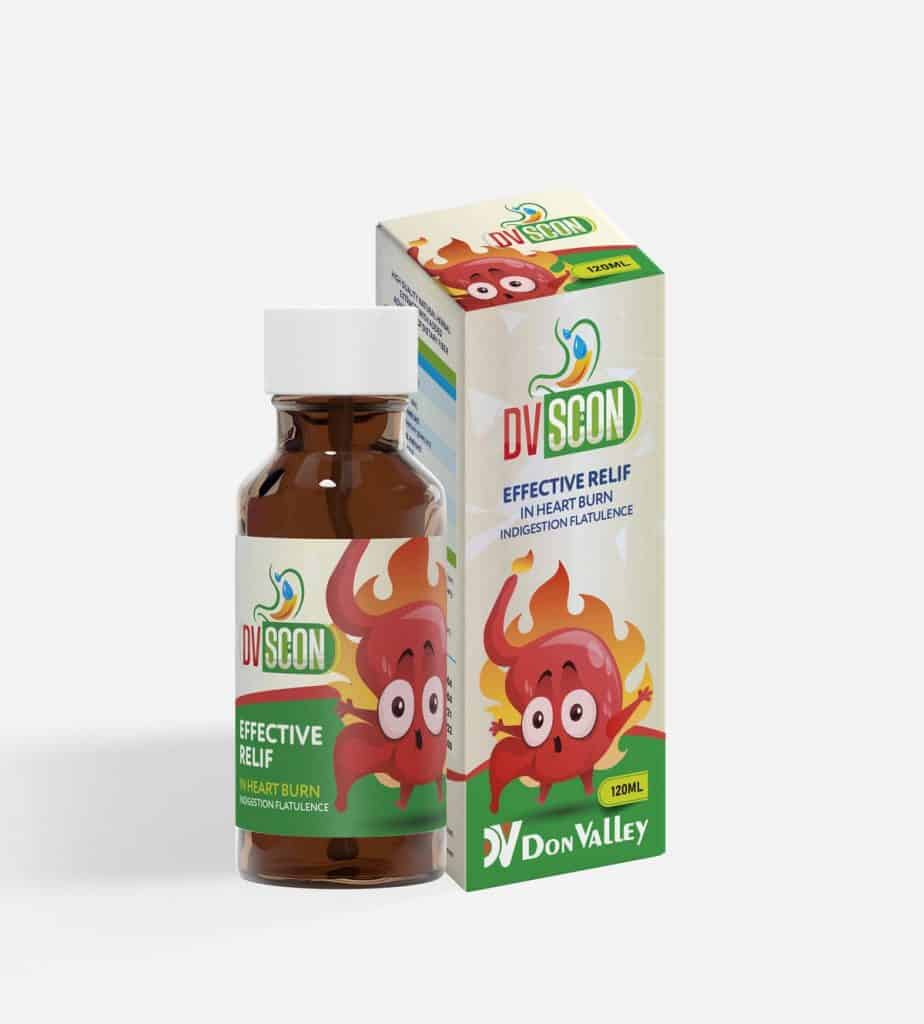 A product of Don Valley Pharma nutraceutical bunch, one of the top medicine companies in Lahore Pakistan.
DV-Cal
When a person's diet does not provide them with adequate calcium or he is unable to absorb adequate calcium from the gut, they can use this combination product to prevent or treat low blood calcium levels. It may be used to treat disorders brought on by low calcium levels, including bone loss, brittle bones, Osteomalacia (also related to reduced parathyroid gland activity), and several muscular ailments. Additionally, it may be applied to some individuals to ensure they receive enough calcium (including women who are pregnant, nursing, or postmenopausal), and people taking certain medications such as phenytoin, phenobarbital, or prednisone).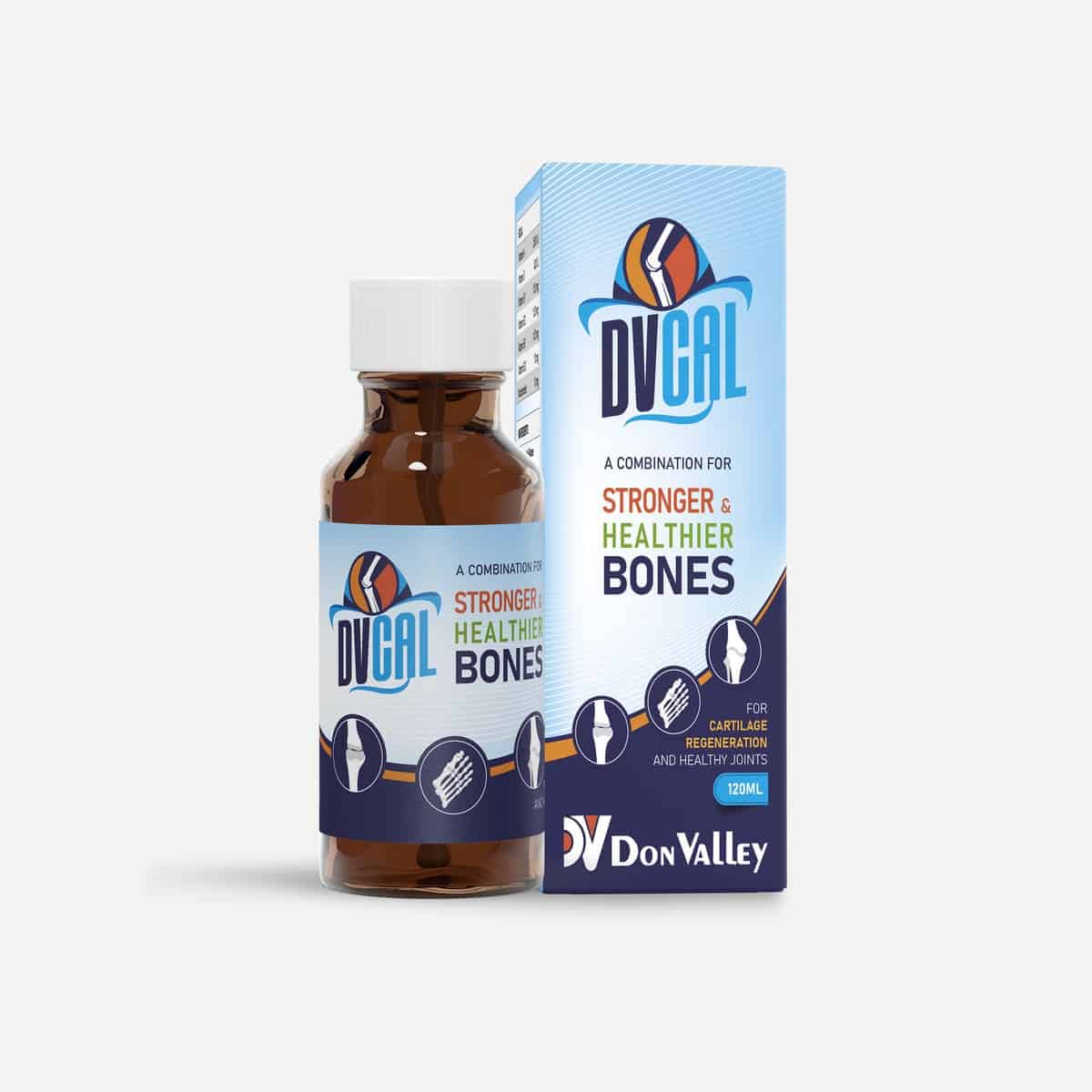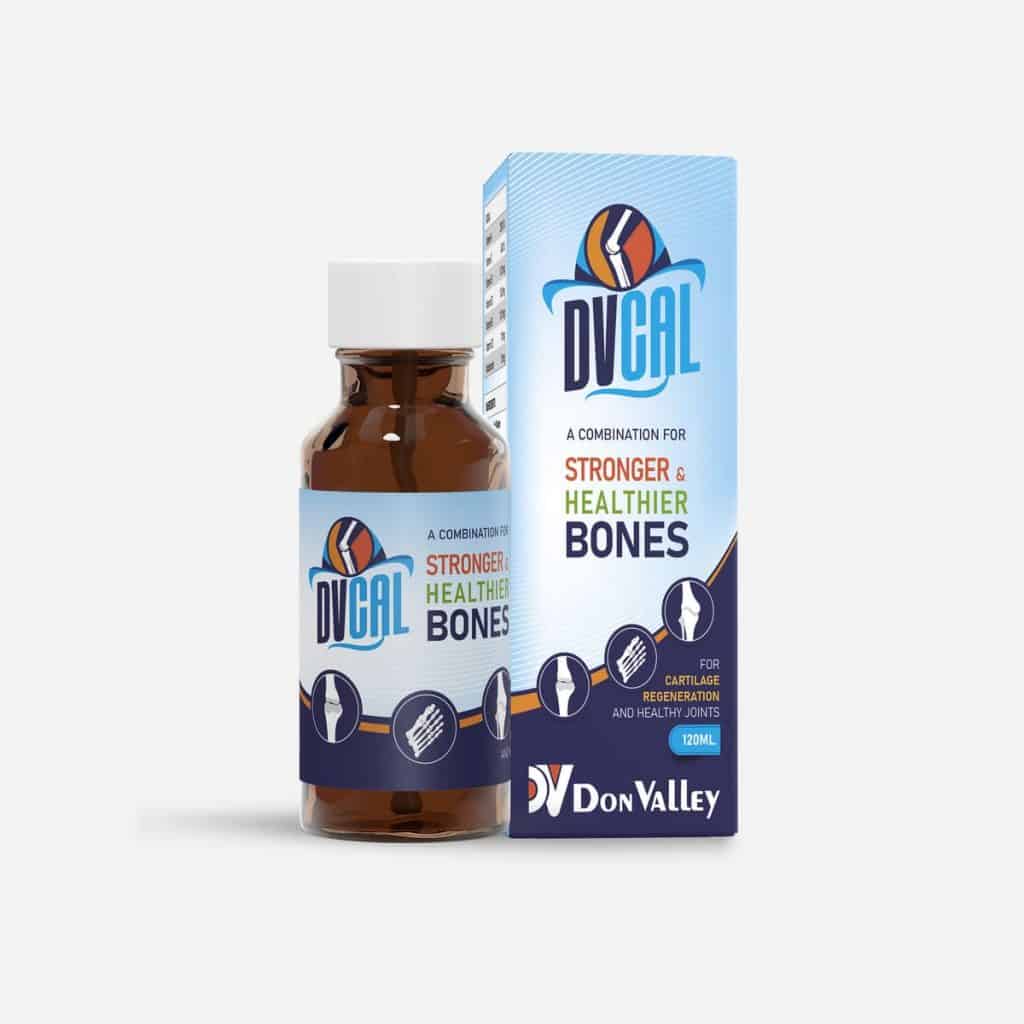 DV-Cal is a combination of organic calcium in the most absorbent form as calcium carbonate and Vit D3 aiding in the maximum absorption. The aging population and population in growing ages need them the most. DV-Cal is manufactured and exported across the globe by Don Valley Pharma, one of the top pharma companies in Pakistan.
Produced by Don Valley Pharma, the no 1 pharma company in pakistan.
Da-Da vitamin D-drops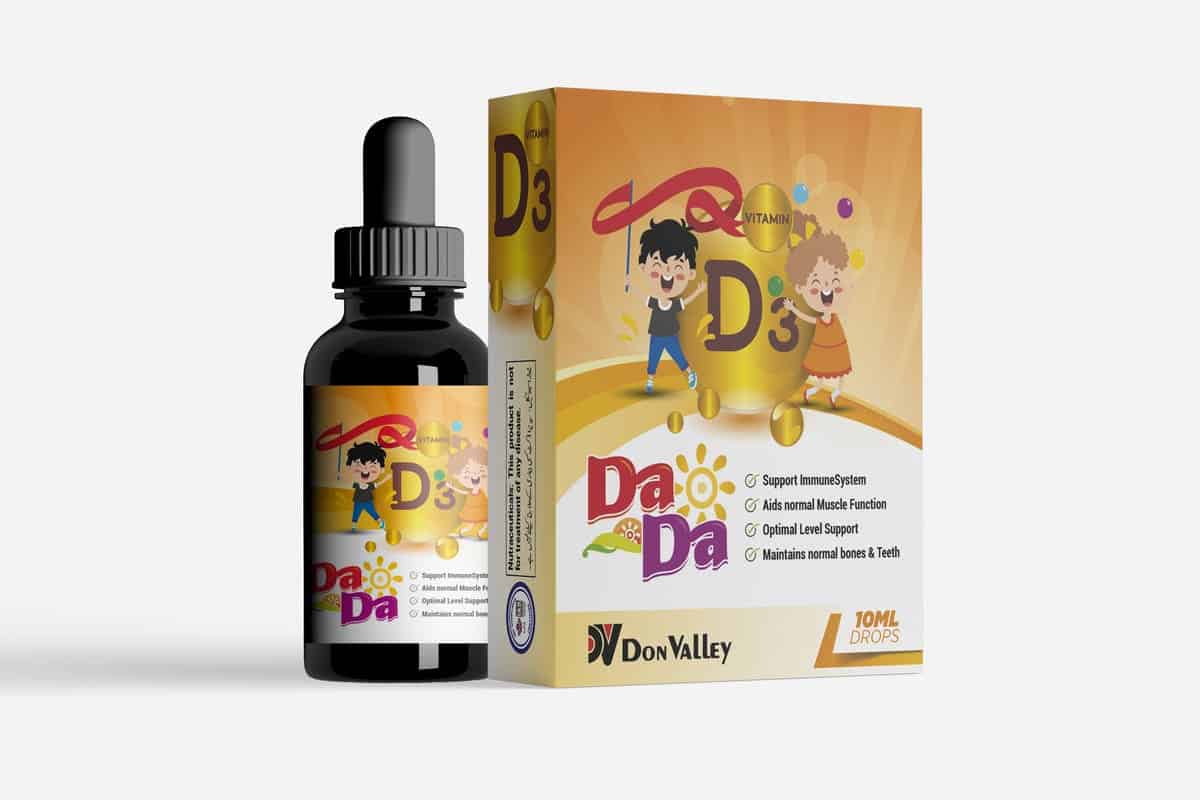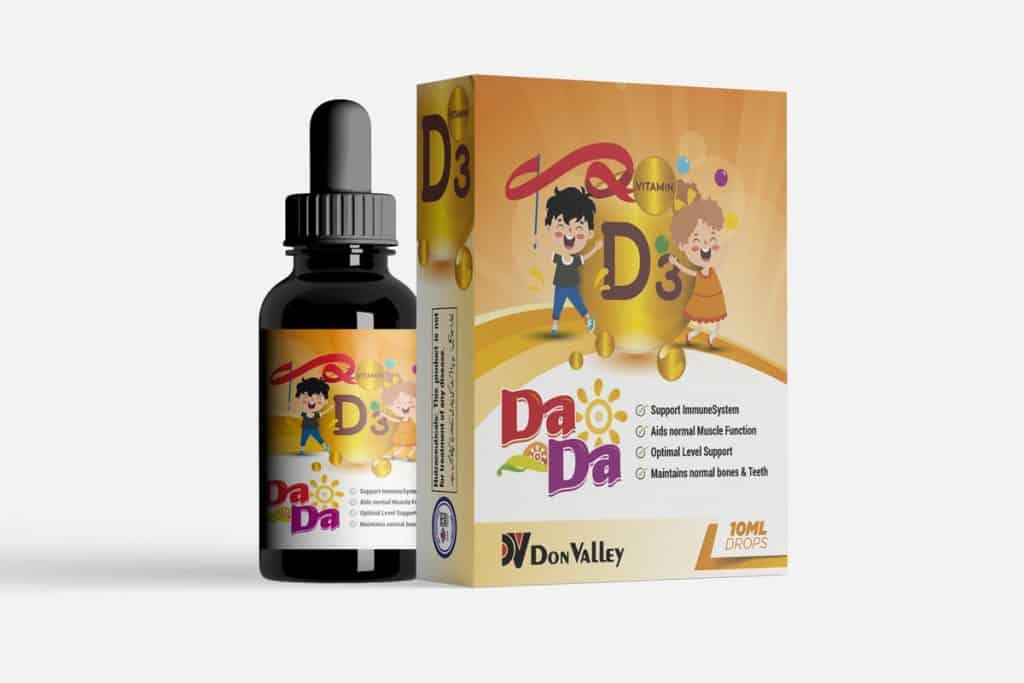 A fat-soluble vitamin called vitamin D3 aids in the body's absorption of calcium and phosphorus. For the purpose of creating and maintaining strong bones, the proper amounts of calcium, phosphorus, and vitamin D must be consumed. Bone problems can be treated and prevented using vitamin D3. Also Vitamin D3 adequate level reduces increased risk of allergic sensitization, keeps energy levels up and enhances mood. Vitamin D3 improves resistance to certain diseases and acts as an immune modulator. Da-Da drops is a highly effective natural Vit D3 formulation for peads and adults. Da-Da is manufactured and exported by Don Valley Pharma, one of the top pharma companies in Pakistan, across the globe due to its proven efficacy, most palatable taste and economy.