Don valley is one of the best Local pharmaceutical companies in Pakistan. They are a Pakistan-based pharmaceutical company, established in 1995 and run by a family of visionary doctors. Our manufacturing facility is located on Main Ferozepur Road, Lahore. 
Don Valley is a big name in Pharma industries in Lahore Pakistan. Don valley is Pakistan's top pharmaceutical exporter and has a good percentage contribution in the country's total pharma exports. The company has a long history of success and has been a major player in the Pakistani pharmaceutical market for many years. Don Valley exports a wide variety of pharmaceuticals and nutraceuticals brands globally. Don Valley enjoys a very strong reputation for quality & efficacy with economy resulting in their products' high demand all over the globe. Don valley comes among the Top medicine companies in Pakistan because Don Valley Pharma has manufactured and supplied quality healthcare products for over 25 years.
Don Valley's products are used by millions of people in their home country and all over the world, and they have a proven track record of efficacy, economy and safety. Their products are available in a wide range of formulations, and they are constantly innovating to bring new and better products to the market to cater the ailing segments of the society.
All About Top Pharmaceutical Company of Pakistan
Pakistan's top pharmaceutical company:
Some famous top pharmaceutical manufacturing & globally exporting companies in Pakistan. Don valley comes amongst the Pakistan top pharmaceutical companies, as it focuses on high customer satisfaction, competitive prices, cost-effective logistics, global market presence and innovative molecules to meet its customer's needs. Don Valley's products are exported to more than 30 countries around the world.
Don valley certificates and license 
Don Valley has its expertise in the manufacturing of penicillin among the multinational pharmaceutical companies in Pakistan. The company's headquarter is in Lahore and has a workforce of over 1,000 employees. The company is ISO certified and is compliant with the latest cGMP and cGLP standards. Don Valley is the Best medicine company in Pakistan as they always emphasise a quality-controlled environment from manufacturer to user. The company has been ranked by IQVIA among the top 50 Pakistan medical companies. We also ensure the QMS (Quality Management System) standards of pharma importers. Don Valley is certified and has a licence from the Pakistan pharmaceutical manufacturers associations.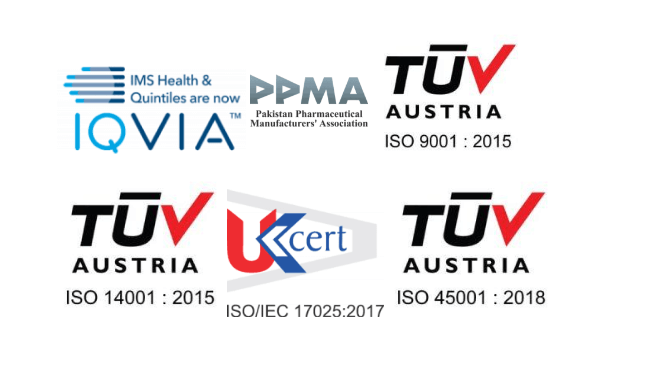 Don Valley comes from the best Medical companies in Pakistan. Don Valley has a strong supply chain network via its distributors in Lahore, Karachi, Islamabad, and many other cities of Pakistan. Don Valley is a leading player in the Pakistani pharmaceutical industry and is well-positioned to continue its success in the years to come. Don Valley is a trusted partner for many of the world's leading pharmaceutical companies, and they are always looking for new ways to expand their business.
Don Valley Top performing Export Healthcare Products
Antibiotics
We have the honour of being among the first Pharma companies in Lahore, Pakistan that introduced Penicillin brands DonPen and Amoxicap for local & export needs. These antibiotics are manufactured according to international standards and we make sure that they comply with GMP as well as the Drug Regulatory Authority of Pakistan. We also manufacture macrolide antibiotics which have been developed at the state of art manufacturing facility of Don Valley pharmaceuticals. These brands include Macrocid and Roxid.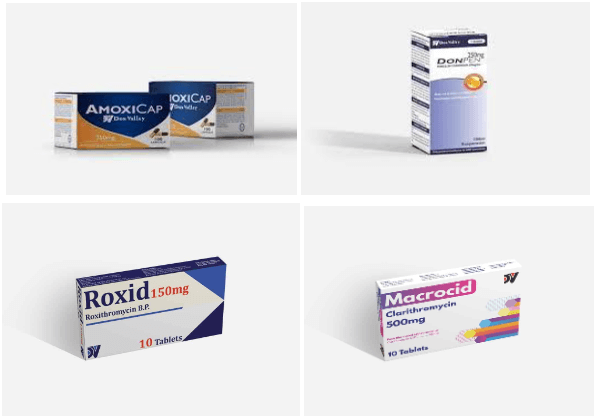 We distribute our brands throughout Pakistan as well as to our international suppliers in different countries around the world through a strong supply chain network. Our export product portfolio also includes Fluoroquinolone antibiotics such as Lovenox (Levofloxacin), DV-Cipro (Ciprofloxacin), and Devimox (Moxifloxacin). These antibiotics are one of the major chunks of our exports to other countries and we have been exporting them for years. Our highly effective antibiotics rank us among the best pharmaceutical companies in Pakistan and worldwide.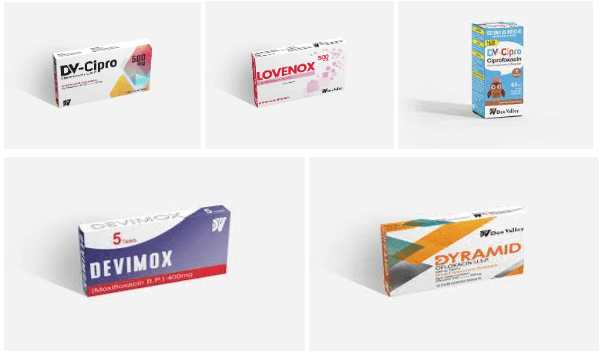 Don valley Important Medicines
We also manufacture, market and export antihypertensive, antilipidemics including DV-Losartin, Resolip, Hypress, DV-Amlos and many others. We are manufacturing and selling it both locally and to our exporting countries. Health care products like Devoquine, and DV cef injections, these medicines have proven to be a saviour when it comes to covid-19 patients. We have not only risen as a top exporter but also as one of the best medicine companies in Pakistan.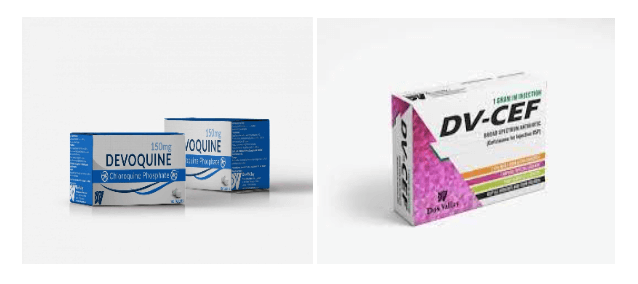 With the assistance of our highly qualified team, our stringent quality assurance & control processes, and an effective national as well as a global distribution network, we are providing healthcare solutions to numerous countries across the globe. These countries include Afghanistan, Cambodia, Myanmar, Burundi, Yemen, Sri Lanka, Iraq, Laos, Togo, Benin, and many more. Our annual sales crossed 10 million US dollars during the last fiscal year and we are expecting handsome growth in the future. Over the last two decades, we have managed to add 123 distributors who market and supply our healthcare products not just in Pakistan, but worldwide as well. We have built long-term strategic partnerships with suppliers, manufacturers and exporters around the world. These relations have strengthened over time due to our persistent products quality, economy & honest dealings.
Don valley Nutraceuticals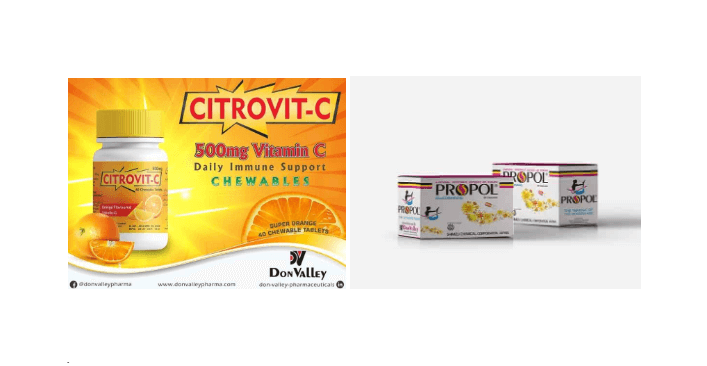 Don Valley is an innovator manufacturer when it comes to natural healthcare products. We started introducing nutraceuticals in Pakistan when very few pharmaceutical companies were even paying attention to these essential healthcare products. These include immunity boosters such as Citrovit- C(Vitamin C). Our unique weight reducing formulation such as ProPol have performed exceptionally well in the international markets. There are many other brands such as Multidon, Feridon, DaDa drops, IvyMax syp, etc. Our goal is to become one of the best medicine companies in Pakistan, and also Pakistan's top Nutraceutical company.