According to the World Health Organization, hypertension, or high blood pressure, is a leading cause of cardiovascular disease worldwide. In the United States alone, hypertension affects approximately one in three adults and is a major contributor to the country's rising healthcare costs.
According to WHO:
Hypertension  ̶  or elevated blood pressure  ̶  is a serious medical condition that significantly increases the risks of heart, brain, kidney and other diseases.

An estimated 1.28 billion adults aged 30-79 years worldwide have hypertension, most (two-thirds) living in low- and middle-income countries

An estimated 46% of adults with hypertension are unaware that they have the condition.

Less than half of adults (42%) with hypertension are diagnosed and treated.

Approximately 1 in 5 adults (21%) with hypertension have it under control.

Hypertension is a major cause of premature death worldwide.

One of the global targets for noncommunicable diseases is to reduce the prevalence of hypertension by 33% between 2010 and 2030.
What is Hypertension?
High blood pressure (hypertension) is a common condition in which the long-term force of the blood against your artery walls is high enough that it may eventually cause health problems, such as heart disease.
Blood pressure is determined both by the amount of blood your heart pumps and the amount of resistance to blood flow in your arteries. The more blood your heart pumps and the narrower your arteries, the higher your blood pressure. A blood pressure reading is given in millimetres of mercury (mm Hg).
Hypertension is diagnosed if, when it is measured on two different days, the systolic blood pressure readings on both days is ≥140 mmHg and/or the diastolic blood pressure readings on both days is ≥90 mmHg.
Common symptoms of Hypertension
Hypertension is called a "silent killer". Most people with hypertension are unaware of the problem because it may have no warning signs or symptoms. For this reason, it is essential that blood pressure is measured regularly.
When symptoms occur, they can include early morning headaches, nosebleeds, irregular heart rhythms, vision changes, and buzzing in the ears. Severe hypertension can cause fatigue, nausea, vomiting, confusion, anxiety, chest pain, and muscle tremors.
Reasons for High Blood pressure
Modifiable risk factors include unhealthy diets. Non-modifiable risk factors include a family history of hypertension, age over 65 years, and co-existing diseases such as diabetes or kidney disease.
Home Remedies for High Blood pressure
Walk and exercise regularly

Reduce your sodium intake

Eat more potassium-rich foods

Cut back on caffeine

& tobacco

Eat dark chocolate 

Lose weight
Emergency treatment for High Blood pressure at home
Try to stay calm. 

Take your blood pressure medication if your doctor has prescribed something for you.

A cup of hibiscus or chamomile tea can also help you feel calmer.

You can also eat a piece of dark chocolate
Treatments for high blood pressure
WHO and the United States Centres for Disease Control and Prevention (U.S. CDC) launched the Global Hearts Initiative in September 2016, which includes the HEARTS technical package. The six modules of the HEARTS technical package (Healthy-lifestyle counselling, Evidence-based treatment protocols, Access to essential medicines and technology, Risk-based management, Team-based care, and Systems for monitoring) provide a strategic approach to improve cardiovascular health in countries across the world.
Antihypertensive drugs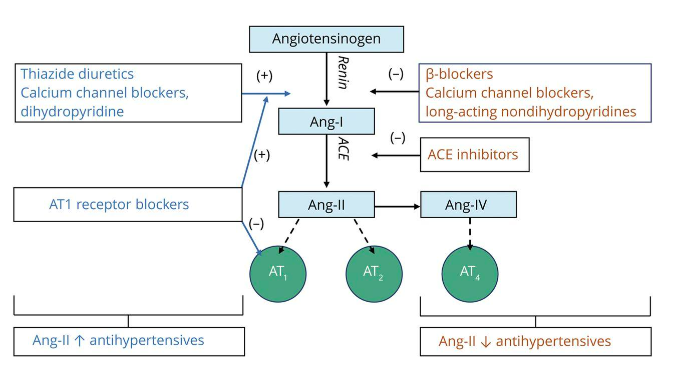 Antihypertensives are a class of drugs that are used to treat hypertension (high blood pressure). Antihypertensive therapy seeks to prevent the complications of high blood pressure, such as stroke and myocardial infarction. There are many classes of antihypertensives that lower blood pressure by different means. 
Medications for hypertension include:
Diuretics

, including thiazides, chlorthalidone, and indapamide

Beta-blockers

 and alpha-blockers

Calcium-channel blockers

Central agonists

Peripheral adrenergic inhibitor

Vasodilators

Angiotensin-converting enzyme (ACE) inhibitors

Angiotensin receptor blockers (ARBs)
The choice of medication depends on the individual and any underlying medical conditions they may experience.
Antihypertensive drugs are prescribed mainly to reduce the morbidity and mortality caused by hypertension and its complications. 
Medicines for hypertension
The Don Valley Medicine Company is one of the largest pharmaceutical companies in Pakistan. As it focuses on High customer satisfaction, competitive prices, cost-effective logistics, global market expertise, and uses advanced technology to satisfy its customers. The company has a wide range of products and is one of the best medicine companies in Pakistan and a leading exporter of medicine from Pakistan. Don valley has a huge name in the Pharma industries in Pakistan & Across the globe.
Don Valley Pharma is a company dedicated to providing cost-effective solutions to the problem of hypertension. Don Valley Pharma offers a variety of products that are designed to help people lower their blood pressure and live healthier lives. The Don Valley is a top national medicine company in Pakistan. The company has many distributors of medicines in Karachi and across the country. The company has a wide range of products that are used by the people of Pakistan. Don valley has a state of art Pharma manufacturing unit at Lahore. For getting any information or need to be a distributor you can call on their Lahore Pharma contact number which is +92 (0) 300-8472229,+92 (0) 300-8448439.
Don valley is one of the best medicine companies in Pakistan and Don Valley Pharma has been manufacturing and supplying quality healthcare products for over 25 years. Don Valley Pharma is a leading antihypertensive manufacturer in Pakistan. Below are some of the high blood pressure medicines that are manufactured in Pakistan and also exported globally.
Hypress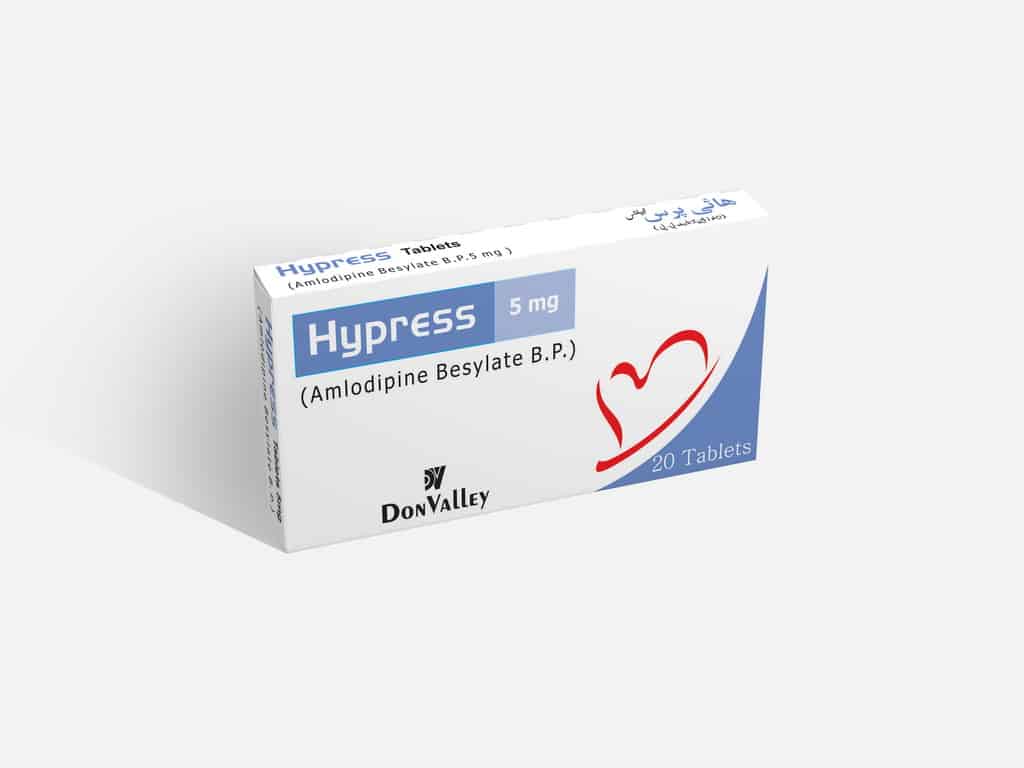 Amlodipine belongs to the class of antihypertensive drugs called Calcium channel blocker. Amlodipine is one of the basic molecules of anti-hypertensive therapy. Amlodipine is used to treat high blood pressure to prevent strokes, heart attacks, kidney problems and other complications. Hypress due to its quality and economy is always in high demand in local & export markets. 
Dv Losartan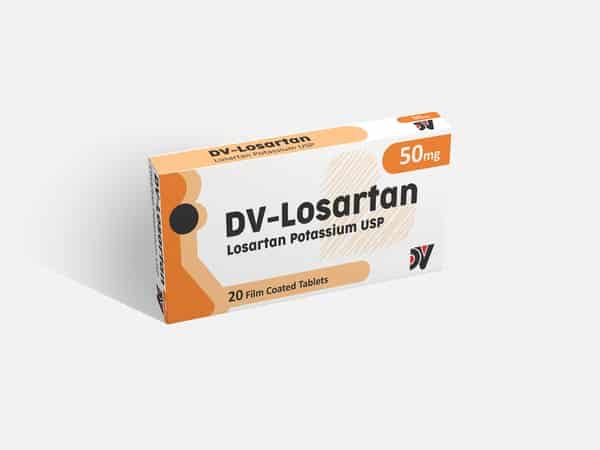 DV-Losartan contains Losartan potassium which belongs to the family of ACE inhibitors. ACE inhibitors are a more advanced form of Anti-hypertensive drugs, used to treat more advanced form of hypertensive conditions. DV-Losartan is used alone or in combination with other medications to treat high blood pressure. It is used to help protect the kidneys from damage due to diabetes. It is also used to lower the risk of strokes in patients with high blood pressure and an enlarged heart. DV-Losartan being a efficacious and economical treatment option by Don Valley Pharmaceuticals has a very good acceptance in health care professionals of Pakistan as well in export domain.
DV-Amlos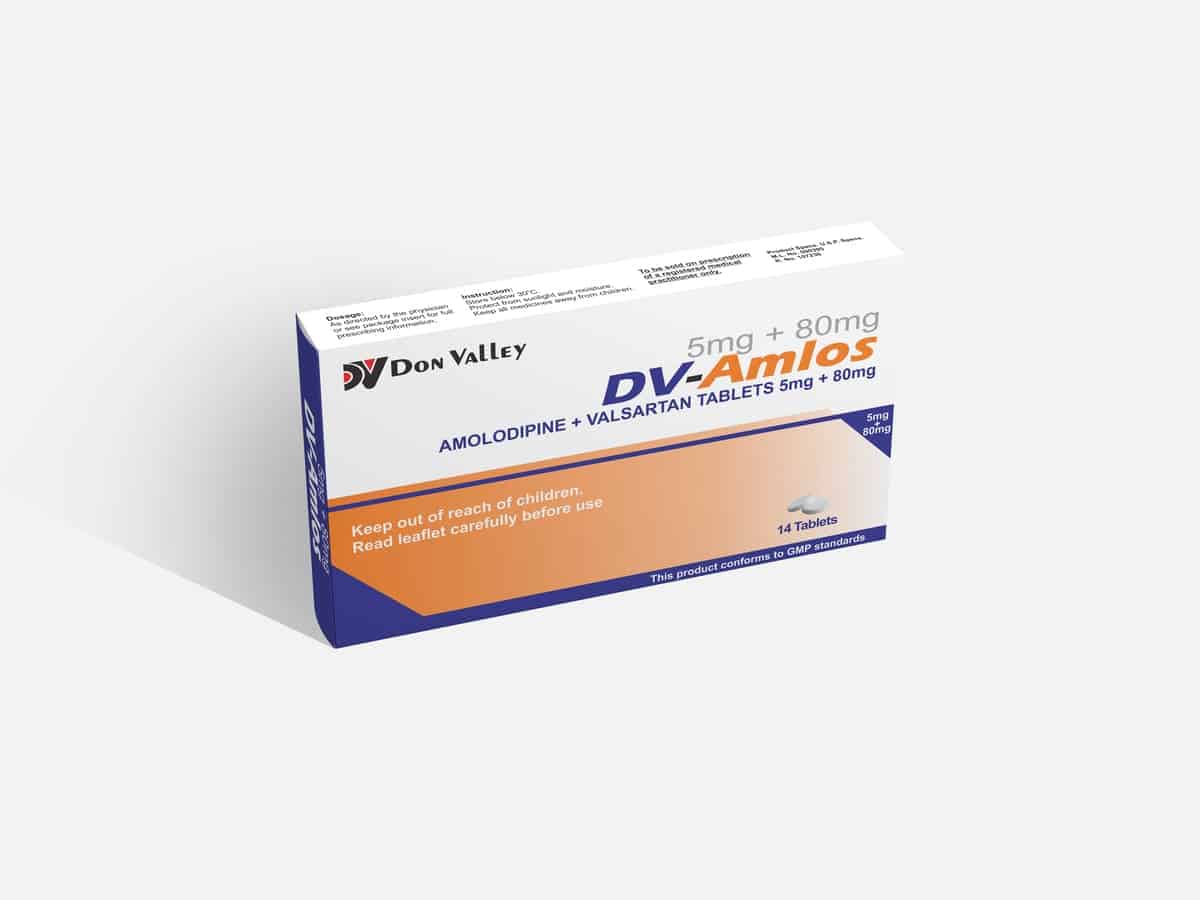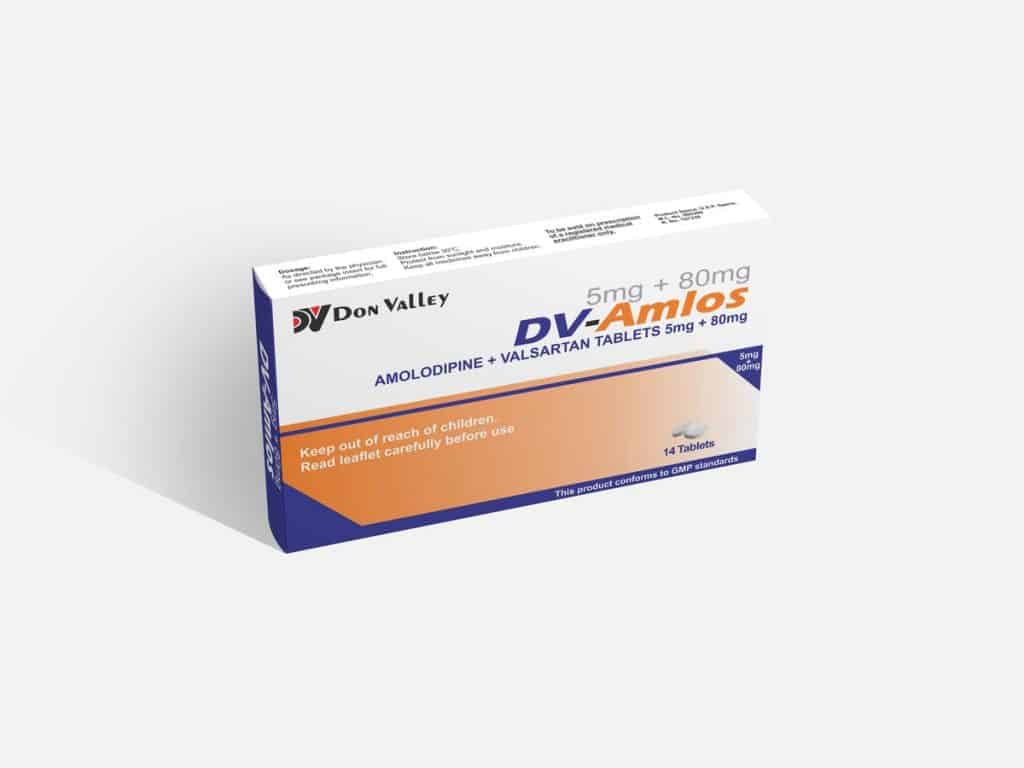 DV-Amlos is a combination of Amlodipine and Valsartan. Valsartan belongs to another recent novel anti-hypertensive class of drugs called ARB's(angiotensin receptor blockers). DV-Amlos is prescribed when a single product is unable to control hypertension. Being an innovative molecule this product is in high demand in patients with resistant hypertension and having a very strong acceptance in local and export markets. 
Apart from addressing the hypertension Don Valley Pharma pre-empting the need of prevention of disease has launched few products (anti-thrombotic) as mentioned below:   
Atostat 10mg & 20mg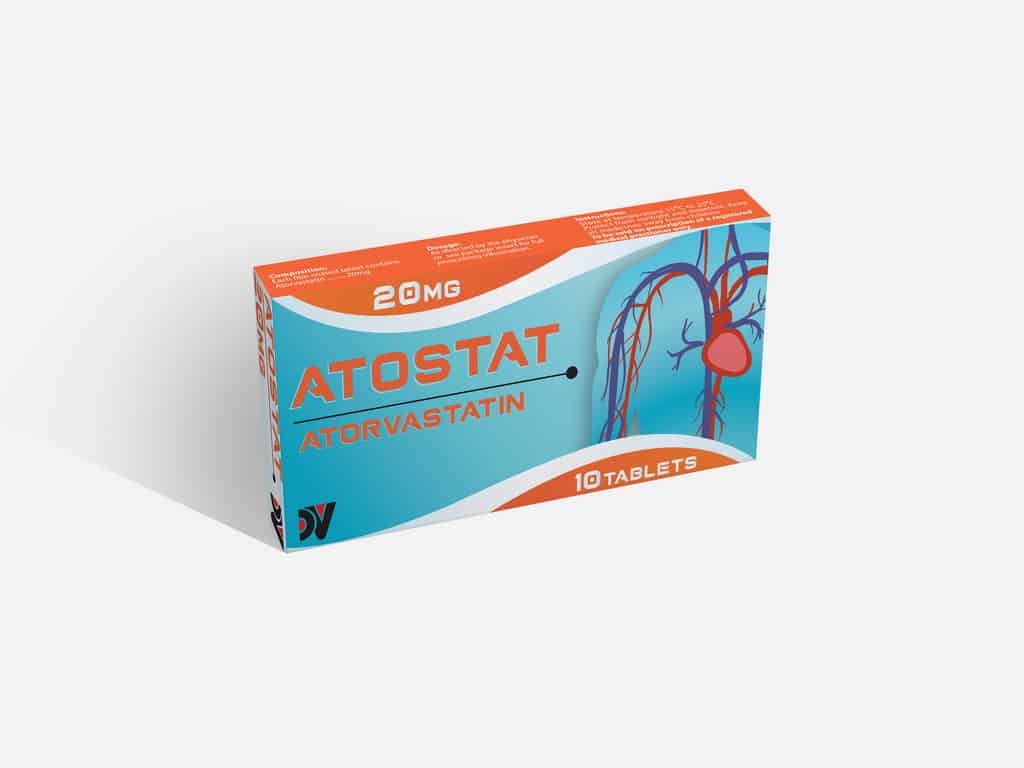 Atorvastatin belongs to the drug class HMG-CoA reductase inhibitors or lipid lowering agents, statins. It is used to help lower the level of bad cholesterol in the blood and increase the level of good cholesterol, when a low-fat diet and lifestyle changes fail to lower the levels of cholesterol and triglycerides. It is used to lower cholesterol and reduce the risk of heart diseases, hypertension, etc. Atostat being a basic molecule in prevention of hypertension, cardiac diseases, hyperlipidemias, etc, also being efficacious and economical in high demands in local & global markets.
RESOLIP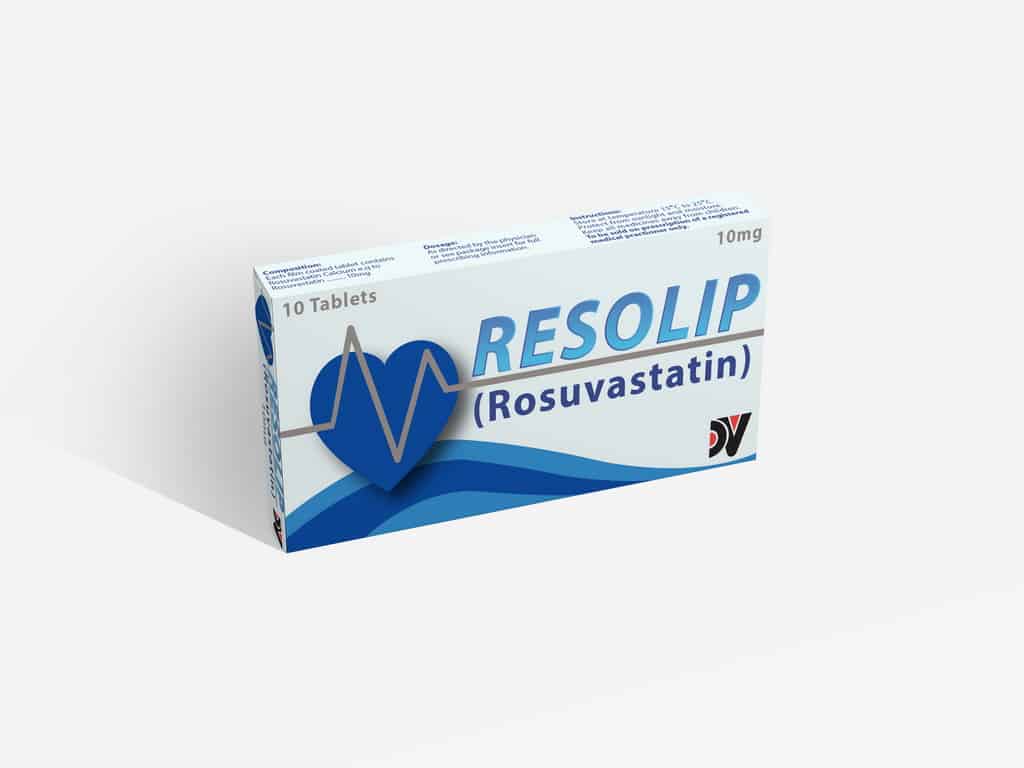 RESOLIP contains Rosuvastatin, belongs to the drug class HMG-CoA reductase inhibitors or lipid lowering agents, statins. Rosuvastatin is used along with a proper diet to help lower "bad" cholesterol and fats (such as LDL, triglycerides) and raise "good" cholesterol (HDL). Rosuvastatin could be beneficial to control hypertension and, consequently, contribute toward reducing the risk of cardiovascular events in patients with hypertension and dyslipidemia.
It is used together with diet, weight loss, and exercise to reduce the risk of heart attack and stroke and to decrease the chance that heart surgery will be needed in people who have heart disease or who are at risk of developing heart disease. Rosuvastatin being a newer molecule with many fold potent action & fewer unwanted effects is in high demand in local and particularly global markets.
Cost-effective treatment options:
The costs of Hypertension care are high because one has to take medication for a longer duration. Also being a "Silent Killer" usually hypertension is usually diagnosed with cardiac complications. Some people are concerned about the cost of hypertension medication. The annual mean direct cost for a person with Hypertension was estimated at around 18,000 Pakistani rupees. The good news is that hypertension is a preventable and treatable condition. And progressive Pharma companies like Don Valley pharma are offering efficacious & cost-effective medications for preventing and treating hypertension with massive local & global acceptance.
Conclusion
Hypertension is a preventable and treatable condition that affects millions of people worldwide. Obesity is a major risk factor for hypertension, but the condition can be prevented and controlled. Thanks to Pharma organisations like Don Valley Pharma, who are offering affordable options available for preventing and treating hypertension. Also innovative pharma companies like Don Valley Pharma working with  healthcare professionals by educating & convincing patients for making lifestyle changes, taking preventive medications & convincing patients to start early hypertensive medication to avoid complications. It is possible to control blood pressure and reduce the risk of developing cardiovascular disease with the already discussed measures.