Don valley pharma is one of the leading medicine companies in Pakistan that has been providing the best of the best healthcare product's all-around Pakistan. Its foundation was laid 25 years ago, with solitary dedication and pure hard work by a team of visionary doctors. Don valley has been a leading pharmaceutical manufacturing company in Lahore and all over Pakistan. As we, the Don valley family has taken a pledge to never compromise on the quality of the product and secure the future. We cherish our people and community, therefore: Don valley pharma tries its level best to provide the finest product at a minimum and affordable price not only locally but also globally. With our finely trained staff and their dedication, we have been supplying high-quality products on time, from anti-infectant to cardiovascular, we cover the majority of specialities.         
Why we are Top-tier Leading Pharma Company in Pakistan
OUR MISSION: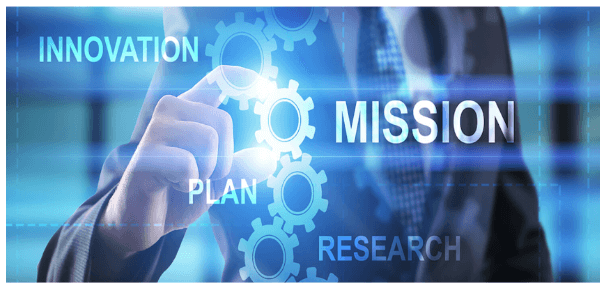 Don valley pharma is dedicated to its products and their quality assurance for the betterment of society. Don Valley Pharma is committed to its mission statement "Quality is our Hallmark". We constantly innovate new life-saving drugs for the betterment of human life. Our fundamental mission is to ensure the obtainability of high-quality medicine's at affordable prices to those in need. Furthermore, our primary aim is to manufacture & innovative, high-tech products to the satisfaction of customers. To this, we are strongly dedicated. Moreover, we pay great importance to not just what we achieve but how we achieve it. Our ethical approach and socially responsible marketing define our business strategies', both from within and outside of Pakistan, and is particularly the motive that differentiates us from other import and export companies in Pakistan. We, the Don valley pharma, are inclined to be the best pharmaceutical company in Pakistan at all times. 
Workplace:
Set in 1995 Don valley pharma has claimed as the best pharmaceutical company in Pakistan by devoting itself to the research and development of mankind with new and better formulas. Run by a far-sighted family of doctors we provide our team with the best equipment for the product's development. Don valley pharma's infrastructure has been developed by the latest FDA & DRAP requirements. This approach has led to the honor of being the first Pharmaceutical Company in Pakistan that introduced Penicillin brands for local & export needs.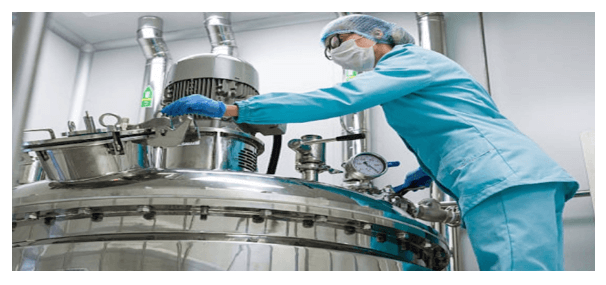 A vast range of manufacturing facilities including a Liquid oral section, Penicillin-tablets, Capsule, Dry powder suspension section, Cephalosporin oral and Sterile section, Creams and Ointment section, Nutraceutical tablets, Capsules, Sachet and Liquid section. Well pleased by ourselves we operate some of Asia's most sophisticated machinery to maintain our customer's satisfaction and ensure the quality of the products for global export  with the help of our 123 distributors. Our to-the-minute facilities are up to the latest (ISO) international organization for standards, (cGMP) current good manufacturing practice, and (cGLP) current good laboratory practice standards. To which we are proud.  
Better society for women: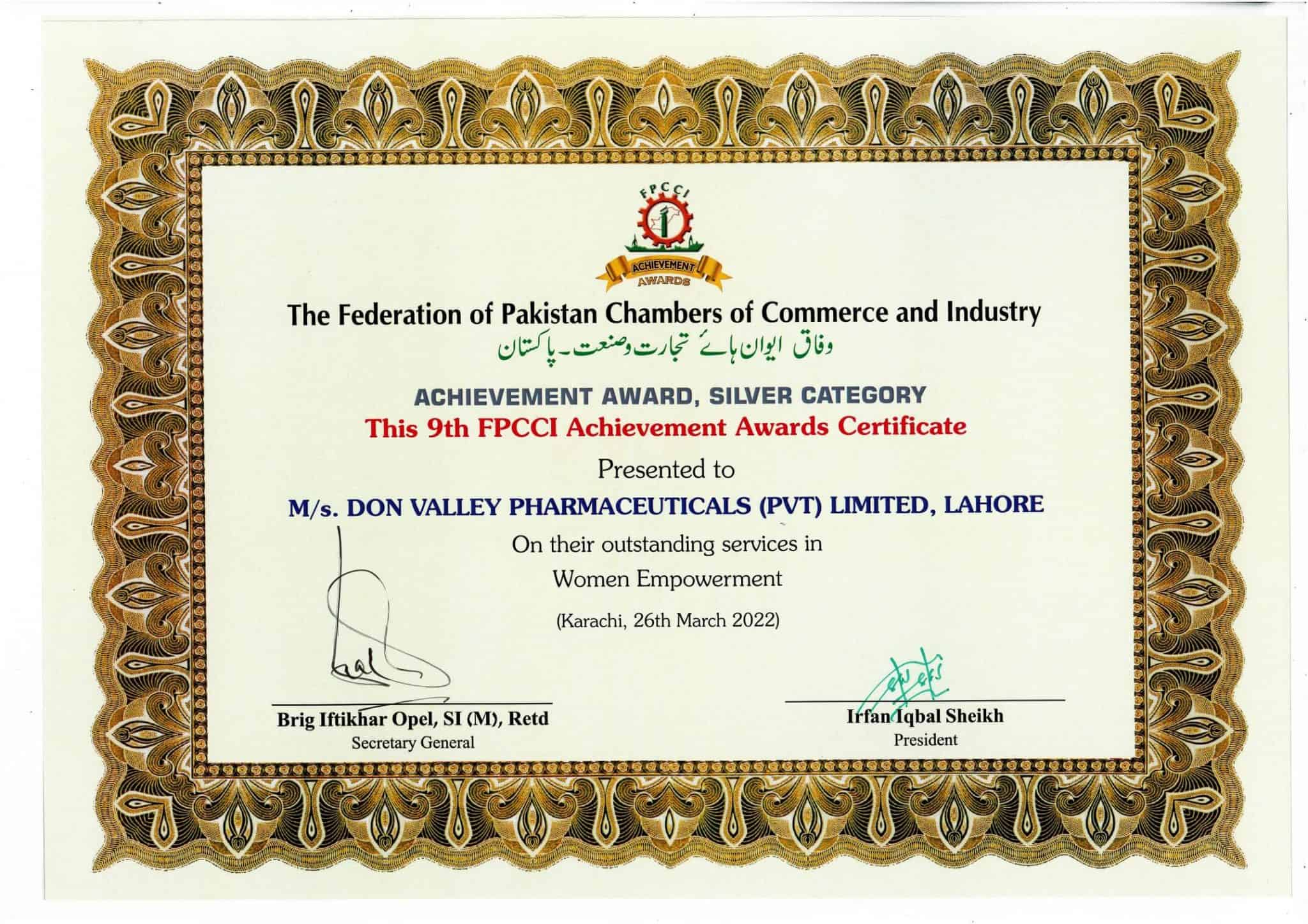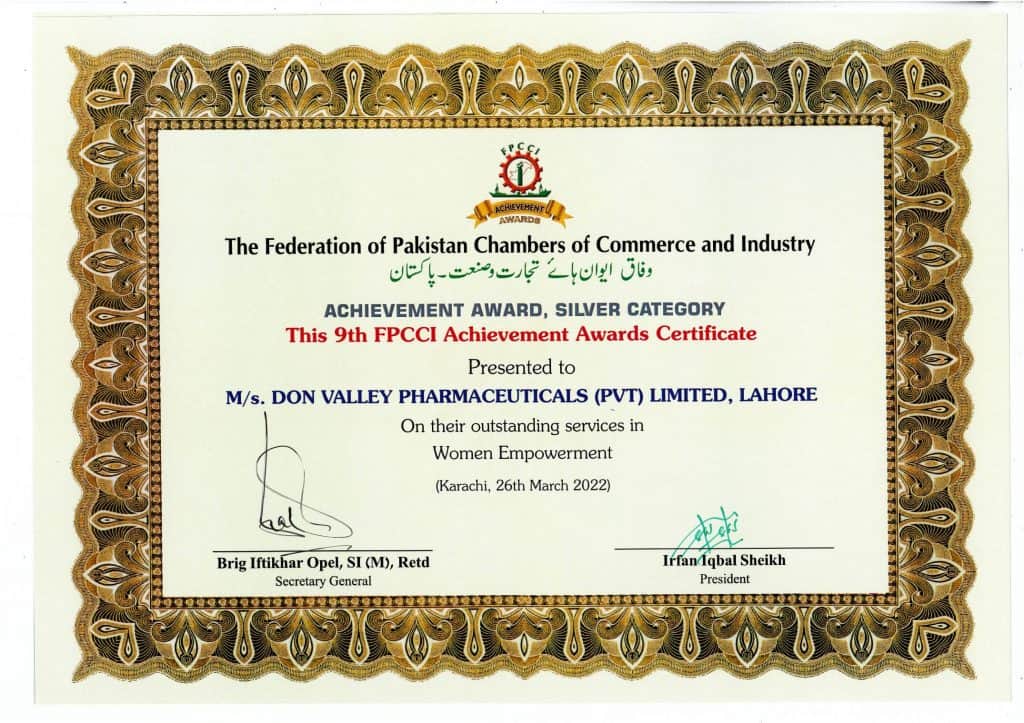 Female pharmacists have been bought by a noteworthy change in the pharmaceutical sector. We care about our people and our country's future and for that, it's high time we let our women handle this. This brings us to the female staff at Don valley. As a leading top national pharmaceutical in Pakistan, we provide them with a decent work environment, flexible work hours, daycare centers as well as paid maternity leaves. The higher-up positions are effectively increasing by female leadership at Don valley which makes us a distinctive medicine company in Pakistan in woman empowerment. We also received an award for our excellent services in women empowerment by the Federation of Pakistan chamber of commerce and industry (FPCCI).
Pakistan export products: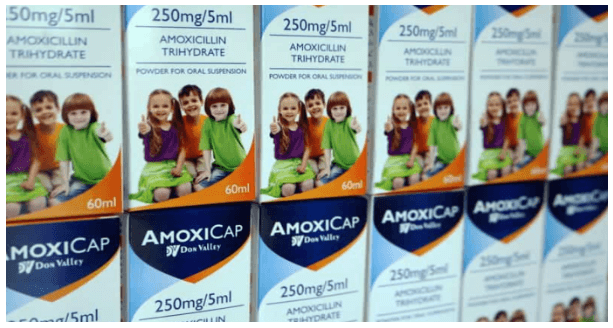 Hold in high esteem, we are honored to be representing one of the best pharmaceutical companies in Pakistan. Don valley has been taking a noteworthy interest in the export of medicine all around the globe even before getting recognized as one of the best pharmaceutical companies in Pakistan. With our team at Don valley, we have been providing the finest cure and medication for many diseases and infections around the globe to many countries including Togo, Ivory Coast, Benin, Liberia, Sierra Leone, Cambodia, Afghanistan, Srilanka, etc in product categories of Antibiotics such as AmpiCap, AmoxiCap, DonPen, Cefidon etc, Antihypertensive & Antithrombotic / Antilipidemic such as DV-Amlos, Rivadon, Atostat, Resolip,and  even in Nutraceuticals such as Multidon, IvyMax, Floraid, Juvel, and Quen-Ten etc. In addition to that, we have a vast range of therapeutic categories such as Cardiovascular, Central nervous system, hematinic, and many more consumer healthcare products resulting in the biggest contribution in Pharma export of Pakistan.
EVENTS AND AWARDS:
Don valley pharma being a leading national pharmaceutical in Pakistan, on the account of our team has received numerous awards such as the Pharma Excellence award, Governor awards 2021, FPCCI achievement award, and many more for being praised and known as a leading medicine company in Pakistan, the best pharmaceutical company in Pakistan, and top exporters of Pakistan.
QUALITY: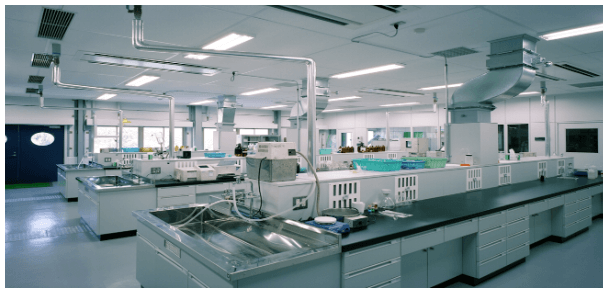 The quality,  efficacy and safety of the products hold utmost value to the Don valley pharma. All the products at Don valley pharma are mass-produced under the company's DRAP complaint manufacturing facility. Which is certified by GMP (Good manufacturing practice), TUV Austria, PPMA (Pakistan's pharmaceutical manufacturer's association), DRAP (Drug regulatory authority of Pakistan), PS (Pakistan standards). And our progression in the Pharma industry is recognised by IQVIA (IMS health & quintiles, a forgein data mining & ranking organization). These world-class certifications prove itself that Don valley pharma does not compromise on the quality of the product and innovations for better health, along with a huge contribution to Pakistan's pharma export.
DON VALLEY FAMILY: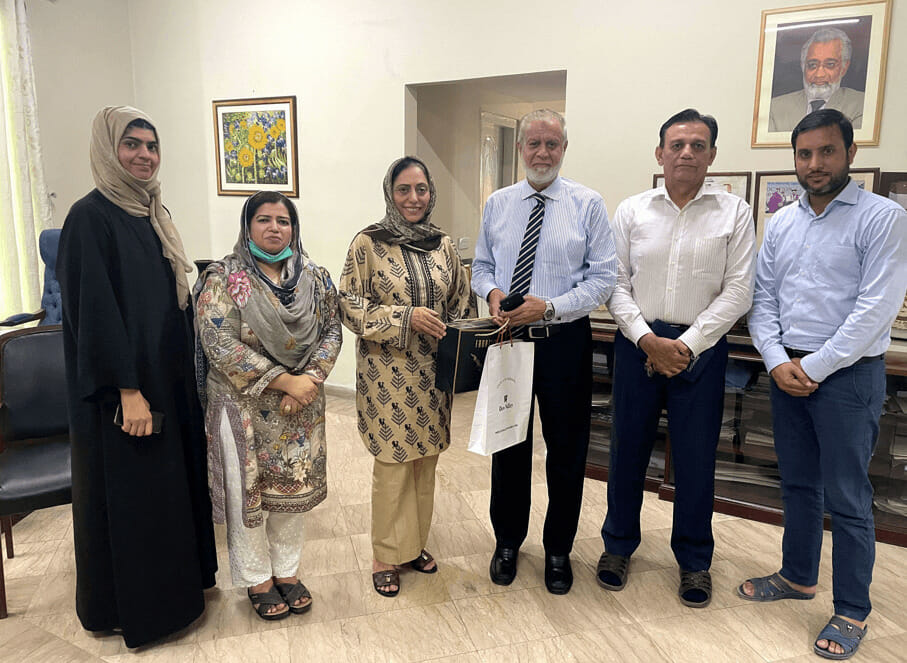 Our team, here at Don valley pharma is the sole reason behind us being the leading medicine company in Pakistan. Don valley pharma's core team consist of finely trained and well-experienced pharmaceutical manufacturers including qualified scientists, certified pharmacists, professional chemists, highly skilled microbiologists, proficient pharmacologists and competent business administrators. The QA team at Don valley pharma ensures the quality of the product by RM/PM analysis, finished product analysis, in-process checks, and stability studies to fulfill the requirement of the product before providing it to the customer. With the help of our team, we made Pakistan's biggest pharma exports and top exports of Pakistan. The vision to have a secure and safe disease-free society is what keep's our team's spirit in the clouds. 
RESEARCH AND DEVELOPMENT:
Don valley pharma, top national pharmaceutical's in Pakistan, is indeed devoted to research and development (R&D). Recognized as the best pharmaceutical company in Pakistan, the team at Don valley pharma is well-experienced and highly skilled research scientists, using cutting-edge technologies to meet international standards. We have fortunately flourished as one of the most compelling, apprising till present-day R&D facilities in not only the country but in whole Asia.
Our up-to-the-minute by-product development program widely includes pre-formulation studies', analytical method development, and manufacturing process development ultimately ensuring product quality and innovation for a better health across the globe.